Birmingham Man Jailed For Beating And Locking Up Wife Over 16 Years
19 June 2018, 14:29 | Updated: 19 June 2018, 14:48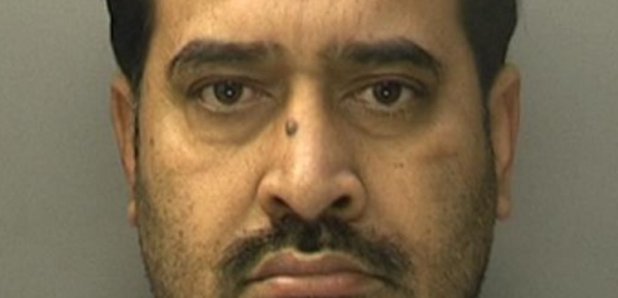 A Birmingham, who subjected his wife to regular beatings over 16 years, locking her in the house, has been jailed.
Zeenit Bibi endured 16 years of marriage to Aziz Rehman, who kept her a virtual prisoner in their home, routinely beating and belittling her.
The 36-year-old confided in a friend at a nearby school, eventually leading to her escaping her abusive partner.

She has urged others in similar positions to "speak up and shout out".

Shop owner Rehman, of Collingbourne Avenue, Hodge Hill, Birmingham, had denied coercive and controlling behaviour and assaulting his wife, but was found guilty by a jury last month.

He was jailed for three years and nine months years at Birmingham Crown Court on Tuesday, following a two-week trial.

After sentencing, Mrs Bibi said she was relieved to know she had been believed - and that Rehman had been jailed.

She added that speaking up had given her "power" for the first time.

Reflecting further on her life, where abuse became "normal", she said: "I am such a strong woman, but only now though. It has taken me two years."

Mrs Bibi said she had felt "in a bubble" with "no exits", as "controlling" Rehman cut her off from her family, including her six brothers and sisters, and friends.

Isolated, she was banned from having a phone and kept locked up in the family home when he was away, only allowed out for the school run, or accompanied by him or his mother.

He secretly wedged twigs in the front door, so he could check if his wife had left the house without his permission.

The 47-year-old also beat Mrs Bibi - "a smack here, a slap there" - but would then apologise, or buy her gifts.

She said that "in the last two years, he went to the next level", completely closing her off from everyone else.

"Today, I can think about it, because I can and I want to - I want to shout out about it," she added.

"That's the thing I would say to every woman - say something to that next person, speak up and shout out."

The turning point came in the aftermath of a violent assault in the home, leaving her fearing she would die.

Mrs Bibi remembered the attack's date - May 4 2016 - as "the last day he laid a hand on me".

"He was very physically abusive," she said. "To the extent where the last time he was abusive I didn't think I was going to make it."

She went: "I had dumbbells put on my head, I had a foldable chair hit on my knee, I wasn't walking properly.

"I was left, for those four days, I wasn't allowed to go the doctor's, I wasn't allowed to be in the hospital.

"My ribs were done in, my knees were done in, and I told people 'It's OK - I fell over the lawnmower'.

"At that point I thought 'Well, this ain't happening anymore', because I physically did think I wasn't going to be there."

She added: "It was that time when I decided I can't be doing this anymore."

An opportunity came when Rehman travelled to Greece for a 10-day trip which, Mrs Bibi later found out, was in order for him to get married to another woman.

Having confided in a friend, they told a teacher at the local school, while police and social services supported her.

Following his arrest, Rehman fled to Pakistan for 10 months while on bail, but flew back to the UK via Norway, France and Scotland, and then drove across the English border.

However, Mrs Bibi discovered he had returned and notified police, with Rehman handing himself shortly afterwards.

Speaking of her decision to leave, she said: "That's the best thing I ever did.

"I couldn't shout this out any louder than what I am now.

"Speak up about it, talk to that one person, otherwise, you might not see tomorrow."

West Midlands Police, who led the "complex" investigation which saw Rehman jailed, said that, since legislation was introduced to tackle controlling and coercive relationships in 2015, 35 people in the force area had been charged.
nvestigating officer, PC Maria Watts from West Midlands Police's Domestic Abuse Team, welcomed the conviction and urged other domestic abuse survivors to seek support to end their suffering.
She added: "The abuse started the day after their arranged marriage when he slapped her across the face having falsely accused her of having had a previous intimate relationship.
"Mrs Bibi was tormented throughout her marriage: she was forbidden from seeing friends and family, regularly assaulted, denied access to a mobile phone, and was effectively living a life of domestic servitude. She went 16 years without seeing her family even though some lived just a few miles away.
"We heard how he would often become stressed with work matters and return home to vent his frustrations and anger at the family… and this frequently spilled over into violent outbursts.
"Rehman denied any wrongdoing and suggested his wife and others were colluding against him. However, we secured evidence from two independent visitors to the house who both told how Rehman ran the home like a prison.
"I'm pleased the court has recognised the severity of the abuse − emotional and psychological torment as well as physical assaults − and handed down a prison sentence.
"Mrs Bibi and her family have now been able to move on with their lives and I wish them the very best for their futures."