Birmingham Terrorist Khalid Masood: What We Know So Far
25 March 2017, 09:12 | Updated: 25 March 2017, 09:59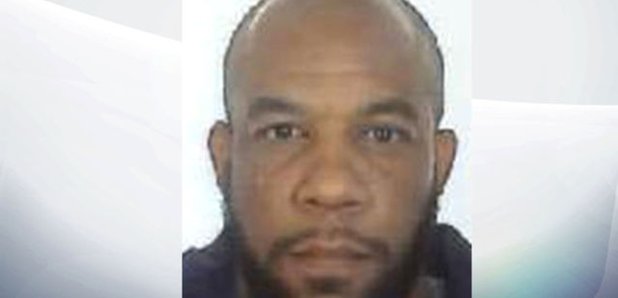 In the months before the attack on Westminster, Khalid Masood had been living in Birmingham. Here's what we know about him so far:
Khalid Masood's death as a crazed extremist gunned down on Parliament's cobbles after slaughtering a policeman and three other innocent people was a far cry from his quiet Kent roots.
The keen schoolboy footballer grew into a troubled adult in and out of prison for a string of violent crimes, including slashing a man with a knife after a boozy pub row with "racial overtones''.
Questions remain over where the man born as Adrian Russell Elms to a single mother in Dartford on Christmas Day 1964 was radicalised.
Reports suggest it could have been during one of his stints behind bars, while others point to time allegedly spent working in Saudi Arabia, home to some of the most virulent Islamic extremism.
The 52-year-old's family moved around during his youth.
His mother Janet Elms is believed to have married Phillip Ajao in 1966, and the killer called himself Adrian Russell Ajao as one of his many identities over the years.
The family later moved to upmarket Tunbridge Wells, Kent,
A childhood classmate of Masood described him as a popular pupil who "liked to party''.
Stuart Knight was in the same class as the then Adrian Ajao at Huntleys Secondary School for Boys in Tunbridge Wells for five years before they left in 1981.
Mr Knight, 52, told the Press Association: "He was a very nice guy, down to earth, liked by everyone around him.
"There was nothing unassuming about him, he was a very good sportsman, his mother was a Christian, he was an all-round nice guy.''
Mr Knight, of Southborough Butchers in Tunbridge Wells, said Masood had been a keen footballer and added: ``It was a sports-orientated school so we didn't have a choice about doing sport, but he was very good.''
He continued: "He was very well-liked, he had a lot of friends. He was one of only two black people out of 600 children; in those days there weren't many black people in the area.
"I don't know if he had girlfriends but he did party very well, he liked to have a good time.''
On hearing the news of his former classmate's actions in London, Mr Knight added: "I am really shocked. I spent five years in his class at school, for him it's totally out of character.
"I am in shock - that is not sympathy for what he has done, he was a nice guy and I'm surprised he turned and did what he did.''
The family lived in St James Park, where an elderly neighbour on Friday said she remembered them as a pleasant, normal family who later moved to Wales to start a chicken farm.
She said: "I remember the father, Phillip, and the wife wasn't too well in health, they had a couple of kids.
"They seemed quite pleasant, just a normal family. He did say at one time he and his family were moving down to Wales to start a chicken farm.''
Masood's criminal career dated back to 1983 and included convictions for assault, GBH and possession of an offensive weapon.
This led him to spend time behind bars at Lewes Prison in East Sussex, Wayland Prison in Norfolk and Ford open prison in West Sussex.
One of his jail terms was a two-year stint for a fight in 2000 outside the Crown and Thistle in Northiam, near Rye in East Sussex that left a man needing 20 stitches in his face.
The report of the court case in the Brighton Argus said that Masood, who stood trial at Hove Crown Court as Adrian Elms, moved to the village "to give his family and himself a better and more tranquil way of life''.
Adrian Baker, 51, who has lived in Northiam for 25 years, told the Press Association on Friday that Elms was known as a "troubled'' character.
He said: "I'm gobsmacked. He didn't appear to be very religious. He would go into the local pubs.''
The Telegraph reported that Masood was jailed again three years later for stabbing another man.
But he would later mask his life of crime with a CV which claimed he was an experienced English teacher who had worked across the world.
The document, seen by The Sun, lists Masood as a university-educated English teacher with experience working in places such as Saudi Arabia and Luton.
It is understood he never worked as a teacher in any of England's state schools.
At some point after his radicalisation he came to the attention of MI5, but only as a peripheral figure according to Prime Minister Theresa May.
The killer most recently appeared to be based in the West Midlands, but also spent time in London, Sussex and Luton.
After his armed onslaught on Wednesday, police searched a three-storey townhouse in the Winson Green area of Birmingham and neighbours said Masood lived there for around seven months until December last year.
Armed police also raided a flat in another part of the city, storming the second-storey property in Hagley Road overnight.
Masood is also thought to have lived in London, with a man of his name registered to an address in a terraced street in West Ham.
A remote farmhouse in Trelech, Carmarthenshire, thought to be his parents' home, was also searched by police.
A mechanic at the garage in the tiny village said the couple had lived in the house for about 15 years and were "good people''.
He said: "He (the husband) is sick with cancer. I expect she's under enough strain as it is without what her son's done.''
A childhood friend of the man then known as Adrian Elms told The Sun newspaper he emerged as a Muslim after serving a jail sentence.
Mark Ashdown, 52, said: "When he first came out he told me he'd become a Muslim in prison and I thought he was joking.
"Then I saw he was quieter and much more serious.
"I gave him some cash-in-hand work for a few months as a labourer.
"He said he needed time to pray and read the Koran - something about finding inner peace.''
He added: "There were still flashes of the old Ade, but they were few and far between.
"I heard he'd split from his partner and got even more deeply into religion. But nothing could have prepared me for hearing his name on the radio.''
His abrupt religious conversion will fuel concerns about the rising threat of criminals being brought under the influence of hardened jihadists while in prison.
Ministers have announced plans to create specialist units within jails to tackle what a government-ordered review last year concluded was a "growing problem''.