One Of The UK's Biggest Cannabis Factories Found In South Staffordshire
6 December 2017, 15:24 | Updated: 6 December 2017, 15:30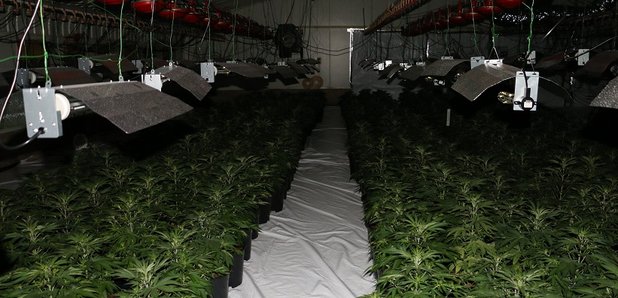 Police found approximately £1.5 million pounds worth of the drug at a poultry farm in Wheaton Aston.
They raided "Three Angels Farm" yesterday (5 Dec) and arrested six people.
A statement from Staffordshire Police said: "Three men were detained at the scene and three other men were arrested following a police search of the area.
"The men, aged between 17 and 44 are from the United Kingdom and Albania."
Inspector Richard Meaden, South Staffordshire local policing commander, said: "The investigation is at an early stage, however we can confirm that approximately 3,100 cannabis plants were recovered.
"The estimated value of this crop is estimated to be worth £1.5 million pounds."
Video: Staffordshire Police