Coventry Wins 2021 UK City Of Culture
8 December 2017, 11:46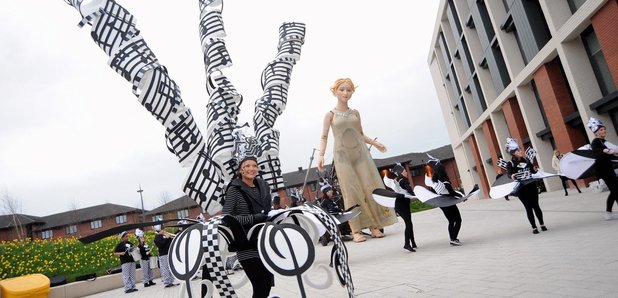 Coventry is the first city in the West Midlands to be named UK City Of Culture.
Coventry will be the next UK City of Culture in 2021.
It beat Paisley, Stoke-on-Trent, Sunderland and Swansea to the title, which is credited with attracting major investment to former winners.
The competition is held every four years, with Derry-Londonderry named as the first winner in 2013.
Swansea failed to win for a second time, having lost out to Hull four years ago.
It had a renewed confidence after creating a digital and innovative cultural infrastructure, while Sunderland wanted to win to build on current regeneration work, and the Stoke bid brought together six towns - Burslem, Fenton, Hanley, Longton, Stoke and Tunstall - to capitalise on a "once in a generation opportunity" to benefit the area.
Laura McMillan, manager of the Coventry City of Culture Trust, said: "This is a win for Coventry, a win for young people and a win for diversity. The economic impact will be huge for the city and the West Midlands.
"It's been a bid by and for the people of Coventry. It has brought so many people and organisations together and this is just the start.
"Over the next three years we will ensure that everyone in the city, which has been moving people by cycle, car and jet engine, is now moving people through culture."
Emma Harrabin and Justine Themen, from the Coventry bid who were in Hull, admitted they were surprised by the announcement as they had not dared to think they might win.
Ms Harrabin said: "We really felt on this whole journey that the city was with us.
"We've been inundated with messages of support on social media. It's just been such a wonderful way for the city to come together and celebrate what it has to offer."
She said: "We knew that we had done absolutely everything we could and we were happy with what we'd delivered."
Ms Themen said: "We're absolutely delighted. We really feel that it's a testament to the work of the whole city - artists pulling together, the voluntary sector organisations, the communities, business and of course the cultural organisations.
Asked about what was the main factor which sealed it for Coventry, she said: "I think it's our diversity.
"It's one of the most diverse cities in the UK and therefore reflective of the diversity of the UK overall. And we hope we can really demonstrates how key culture can be in building bridges across difference."
Saying that he looked forward to seeing what the city has to offer, Arts Minister John Glen added: "I would like to congratulate Coventry on winning UK City of Culture 2021.
"The title is an incredible opportunity for Coventry to boost investment in the local economy, grow tourism and put arts and culture centre stage.
"We received excellent bids from all the cities and I would like to thank them for their efforts."
Chair of the judging panel Phil Redmond said Hull had "pushed up the bar" but he thought Coventry would take it forward further with something different.
He said: "We didn't just want to see a replication of Hull. They had to represent their own culture.
"I think you'll find that Coventry came up with something special of their own. What they've learned is about getting people engaged, getting the communities engaged."
Mr Redmond added: "What we wanted was what's going to be the biggest impact for the UK and which city will push it up a bit, challenge us all a little bit more.
"And we think that, taking it all together, Coventry is the one that will actually do that for us."
Arts minister John Glen said: "It was a very tight contest with five very compelling bids. It was a close decision but it was a unanimous decision by the independent panel.
"I think it's the scale of their bid, their ambitions for young people and the diversity of Coventry being at the centre of their projections of what they want to achieve.
"And I think they'll impact a large amount of the UK, which is really important.
"We want something that will have a big impact.
"That's what we've seen in Hull and I think Coventry will take the mantle and the title and do something different but equally as impactful."