Man Injured In Birmingham House Explosion
6 April 2016, 17:42 | Updated: 6 April 2016, 20:28
A man has suffered serious burn injuries after the two-storey house he was inside was destroyed in a suspected gas explosion.
Dramatic pictures from the scene in the Ladywood area of Birmingham show the upper floor of the terraced home in Wiggin Street, Edgbaston, reduced to a smoking ruin.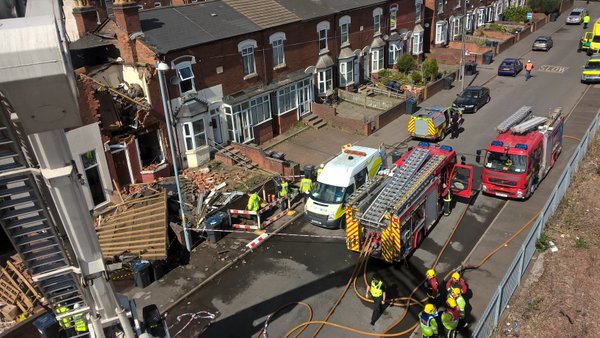 A spokesperson from West Midlands Fire Service said: "An initial report described the roof of the house as having been 'blown off' and that much of the remaining property had been reduced to rubble."
It's thought at least two people were in the house at the time - a woman who was treated by the ambulance service at the scene and a man, who suffered serious burn injuries is being treated at the Queen Elizabeth Hospital.
People living next door told Heart that they heard their neighbour screaming in pain and saw him running towards the hospital.
Station Commander Dave Janes, added: "There was a significant fire in a rear single-storey part of the building, but we've yet to establish the precise order of events.
"We had to be very mindful of how much water we used because of the building's instability.
He added: "We will be taking a decision in due course as to whether operations will be able to continue after dark.''
A spokeswoman for West Midlands Ambulance Service said: "One woman, who was believed to have been in the property at the time of the explosion had managed to get out of the building herself despite the damage. She was assessed by ambulance staff and discharged at the scene.
"A second patient, a man, who was also believed to have been in the property at the time of the incident had made his own way to City Hospital. The aircrew and critical care paramedic attended the hospital, where the man was being treated for serious burn injuries."
"Due to his condition the man was conveyed, via land ambulance, to the major trauma centre at Queen Elizabeth Hospital in Birmingham. The trauma doctor travelled on board the ambulance continuing to provide emergency care whilst en route."