Manchester Attack: West Midlands Response
23 May 2017, 09:28 | Updated: 24 May 2017, 13:16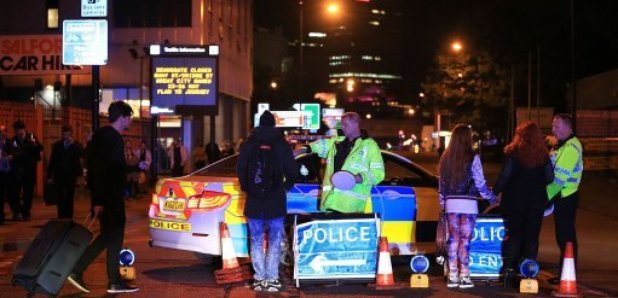 22 people, including children, have been killed after a suicide bombing at a Manchester Arena concert.
64 people were also injured when the bomb went off at the end of an Ariana Grande gig on Monday night.
The 23-year-old American singer was performing as part of her Dangerous Woman tour when a suicide bomber detonated an improvised explosive device.
The singer said on Twitter she is "broken" after the terror attack.
broken.
from the bottom of my heart, i am so so sorry. i don't have words.

— Ariana Grande (@ArianaGrande) 23 May 2017
The first victim to be named over the attack is 18 year old Georgina Callander. She was at the concert last night and had met the singer back in 2015 which she posted on her Instagram:

So called Islamic State is claiming to have carried out the attack:
Islamic State group says one of its members carried out last night's attack at Manchester Arena. #HeartNews pic.twitter.com/rmQYk1X6MN

— West Mids News (@HeartWMidsNews) May 23, 2017
Three new arrests have been made in connection with the Manchester Arena suicide bombing. A 23 year old man was already being questioned in connection with Monday's attack.
The attacker has been named as 22-year-old Salman Abedi - a British born man with Libyan heritage, but the Home Secretary says it seems likely he wasn't acting alone.
The terror threat level have been raised to 'criticial' overnight meaning another attack could be imminent.

It will see solidiers at the key sites across the UK.
West Midlands police have told Heart they are looking at how they police such events after what happened in Manchester:
@WMPolice tell #HeartNews they're immediately evaluating how they police events after the #ManchesterAttack pic.twitter.com/WSCvFFRlqn

— West Mids News (@HeartWMidsNews) May 23, 2017
Venues across the West Midlands have been responding including the Barclaycard Arena and the Genting Arena
We are shocked and saddened by the terrible incident at the Manchester Arena last night. Our thoughts are with those who were affected.

— Barclaycard Arena (@BcardArena) May 23, 2017
Venues like @GentingArena say they're doing 'asboutlely everything we can with heightened security measures' after #ManchesterArena attack https://t.co/R5ZMAcmPAU

— West Mids News (@HeartWMidsNews) May 23, 2017
West Midlands Ambulance sent a team from across the region to help the Cheshire team with day to day so they could respond to events in Manchester.
The emergency contact number for those concerned about their loved ones: pic.twitter.com/RVNGlWuywH

— WMAS (@OFFICIALWMAS) 23 May 2017
The Prime Minister and World Leaders have been paying tribute
.@theresa_may: 'We are working to establish full details of what is being treated by police as an appalling terrorist attack' #HeartNews

— West Mids News (@HeartWMidsNews) May 23, 2017
Donald Trump has called the suicide bomber an 'evil loser'
President Trump says the US stands in solidarity with the UK and that Manchester suicide bomber was an "evil loser" #HeartNews pic.twitter.com/OM6xeDI3aJ

— West Mids News (@HeartWMidsNews) May 23, 2017
A vigil will be held in Birmingham on Tuesday evening from 6:30pm in Victoria Square, Birmingham Library ill be lit up in red, white & blue with flags flying at half past above council houses.
Music stars have also been sending thoughts to those affected including Katy Perry and Kylie Minogue:
Broken hearted for the families tonight. Broken hearted for Ari. Broken hearted for the state of this world.

— KATY PERRY (@katyperry) May 23, 2017
Absolutely heartbroken for #Manchester. Devastating news. My love, thoughts & prayers go out to all.

— kylie minogue (@kylieminogue) May 23, 2017