Masked Men With A Gun Outside Birmingham Prison
7 August 2018, 17:34 | Updated: 7 August 2018, 19:13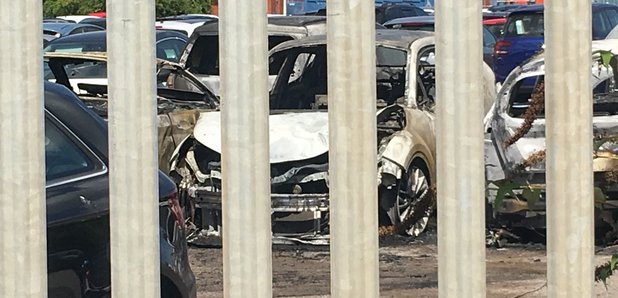 Armed police were in the car park outside Birmingham Prison within minutes of reports cars had been set on fire.
Several vehicles have been destroyed after two masked men targeted a car park used by prison staff in Birmingham.
The blaze was quickly extinguished, but not before 10 cars were left damaged or completely burnt out near HMP Birmingham on Tuesday.
Two masked men, one reportedly carrying a handgun, were seen driving off in a vehicle, according to West Midlands Police.
However, worse destruction may have been averted after the men were disturbed by two senior G4S security staff who spotted their suspicious activity on the site, which is over the road from the main prison.
Workers at the nearby scrapyard businesses described hearing car alarms going off and coming out to see at least half a dozen cars already well alight.
They told how armed police arrived quickly at the scene, near the prison staff training building, along with other officers in both marked and unmarked cars.
An insider at the prison said two members of staff spotted the masked men on the car park, seeing one spraying a liquid on the roofs of the vehicles.
When the pair were challenged, one of them pulled what appeared to be a handgun on the staff, forcing them back.
The liquid was then set alight, igniting a fire which spread quickly along the row of parked cars, while the masked men escaped through a gap in the metal fence surrounding the site.
It is understood that one of the G4S then bravely chased after the men, and managed to get the registration number of their getaway vehicle, and pass it to police.
Ajay Kumar, who works at a scrapyard opposite the scene, said he ran out when he saw smoke billowing from the scene.
He said: "I saw four cars alight.
"Then the police were here - they arrived very quickly."
A work colleague, who asked not to be named, said police had asked him if he'd seen "any men running around", however he was unable to assist.
A spokesman for West Midlands Police said: "We are responding to an incident on a car park outside Birmingham prison where several cars have been set on fire.
"There are no reported injuries.
"Two masked men, reportedly armed with a firearm, were seen to make off in a vehicle."
Director of HM Prison Birmingham, Rob Kellett, said: "At approximately 1.30pm this afternoon an incident took place in the car park across the road from HM Prison Birmingham.
"Nobody has been injured."
The last firefighters left the scene shortly before 4pm.