Midlands Sailor Rescued After Being Left Stranded During Solo Race
7 December 2018, 17:06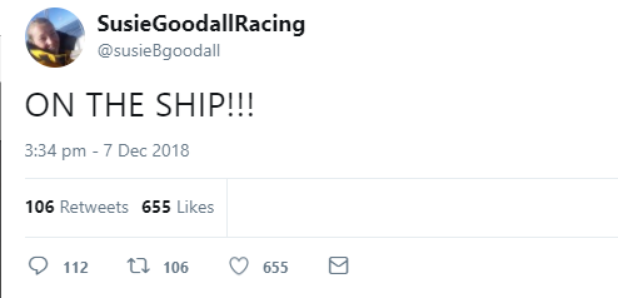 A British woman sailing solo in a round-the-world race has been rescued after a vicious storm in the Southern Ocean destroyed her mast and knocked her unconscious.
Susie Goodall - who grew up in Worcestershire and used to sail at Himley Hall in Dudley - tweeted to say she was "on the ship" on Friday afternoon after Chilean authorities directed Hong Kong-registered cargo ship MV Tian Fu to help the stricken sailor.
The 29-year-old had been competing in the Golden Globe Race - a 30,000 nautical mile solo and non-stop circumnavigation.
On the Golden Globe Race website, officials said they have been in regular radio contact with Goodall since she regained consciousness.
Goodall lost her mast in the Southern Ocean around 2,000 miles west of Cape Horn near the southern tip of South America on Wednesday.
She was the youngest entrant and the sole female in the demanding race, and has so far spent more than five months at sea.
Her entry on the race website says she started sailing at the age of three and has crossed the Atlantic Ocean while sailing alone.
Goodall's messages to race officials chronicled the disaster that disabled her boat and saw her competition brought to an end.
On Wednesday at around 8.30am, she tweeted: "Taking a hammering! Wondering what on earth I'm doing out here" and sent her position.
Four hours later, she said: "Dismasted. Hull OK. No form of jury rig. Total loss" and updated her position.
Next she said: "Interior total wreck. Liferaft OK," followed by an update on her injury: "Nasty head bang as boat pitchpoled. Unbelievably roly now."
And a minute later: "Totally & utterly gutted!"
The competition began on July 1 in Les Sables-d'Olonne, France, with 18 skippers each planning to sail non-stop and without outside assistance before returning to the same French port.
Competitors are racing in boats measuring between 32ft and 36ft, which were designed prior to 1988 and have a full-length keel with rudder attached to their trailing edge.
They also have to navigate with a sextant on paper charts, and without electronic instruments or autopilots - with sporadic contact with families as their radios allow.
This move was to recreate the conditions of the first Golden Globe Race in 1968 that was won by British sailor Sir Robin Knox-Johnston.
Five decades ago, the 79-year-old sailed into the history books after he became the first person to complete a full circumnavigation of the world solo and nonstop.