Midwife Murderer Jailed For Life In Stafford
3 December 2018, 18:09 | Updated: 3 December 2018, 18:33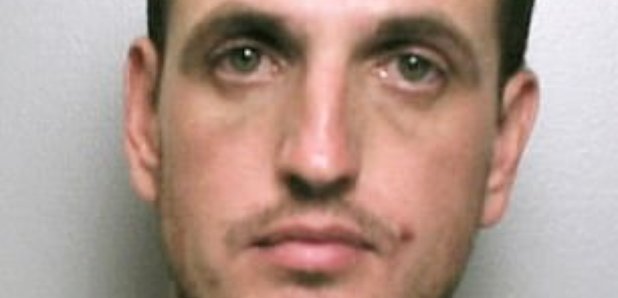 Michael Stirling will spend at least the next 16 years in prison after murdering Samantha Eastwood.
The sister of a midwife brutally murdered by her lover has told the killer she was "haunted" by the false comfort he gave the family, hours after the death.
Michael Stirling was stared down in the dock by Samantha Eastwood's younger sibling during her emotional evidence as she said his actions had robbed her of a "sister, mentor and best friend".
The landscape gardener was jailed for life with a minimum term of 16 years, 299 days, at Stafford Crown Court on Monday, after previously admitting the murder of the Royal Stoke University Hospital midwife.
Stirling was brother-in-law of the victim's former fiance John Peake, who was in court along with her sister, Gemma Eastwood, and mother, Carole.
Sentencing him to serve a minimum of 16 years in prison, Mrs Justice Susan Carr told Stirling: "Samantha was alone in her home where she should have been safe and sound, and trusted you in her house.
"On any view, she suffered what must have been a terrifying assault resulting in a killing that was not immediate."
She added he then "weaved an extraordinary web of deception", causing immense distress to the family, including sending fake texts pretending to be from Miss Eastwood, and even hugging the victim's sister Gemma Eastwood.
The judge said: "Throughout this period you were repeatedly acting deliberately and without remorse; you were composed and callous."
Miss Eastwood, described in court as a "fantastic midwife" and "bubbly", was buried by Stirling near a disused quarry in Caverswall, Staffordshire.
The 32-year-old, of Gratton Road, Stoke, had told his wife he was out searching for then missing Miss Eastwood, while in fact he was concealing her remains.
Stirling placed the victim inside a duvet cover taken from her home, and wrapped in tape covering the eyes, mouth and nose, before digging a shallow hole with his work spade.
He claimed to have strangled and smothered the victim in her bedroom in a "fog of anger", after alleging he wanted to bring their three year-affair to an end.
But in text messages sent to Miss Eastwood, the day he killed her, Stirling said: "Please come back, it's killing me.
"I want to give up without you."
In the last of the two messages, sent at 7.45am, on July 27, he added: "I hope you know what trouble you're causing xxx come back please, asap."
Opening the case, barrister Jonas Hankin QC said it was the prosecution's case Stirling was "hounding" the midwife, making 128 phone calls to her in July alone.
He arrived at her home in Greenside Avenue, Stoke-on-Trent, on the morning of July 27, before going to work, and returning between 12.45pm-1pm.
At 3pm, a neighbour heard a woman screaming for "between 15 to 30 seconds", and then a woman shouting "get off, get off me".
Miss Eastwood was smothered and strangled in her bedroom, in an attack lasting up to half a minute.
Mr Hankin said: "The killing was undoubtedly brutal."
CCTV from a house opposite Miss Eastwood's then showed Stirling reversing his white Vauxhall Combo panel van up her driveway at about 5pm.
Mr Hankin said: "Shortly thereafter, the prosecution says he must have put Samantha's body into the back of the van."
After the murder, Stirling, who would later tell police officers he "genuinely loved" Miss Easwtood, texted his wife Katie, with whom he has a four-year-old daughter.
In the message, sent at 5.15pm, he said: "Meet you at mum and dad's, love you xxx".
Eating supper, with his family, his wife remembered him being "fine and cheerful", the court heard, with the judge describing his "composed and callous" performance as "chilling".
Mr Hankin said: "He drove to his parents' house, parking the van, which must still have contained Samantha's body."
She was reported missing by work colleagues that evening, after failing to show for her night shift.
Her ex-fiance, Mr Peake went straight to her home, finding her unused wedding dress, engagement ring and greetings cards - from him - lying on her bed.
Mr Peake told the court he believed they were a ploy by the killer "to point the blame in my direction", after their engagement and relationship had ended in January 2018, in part because of Stirling's on-going affair.
Stirling, under what the judge called the "pretence" of going out to help look for Samantha, showered, changed, and then buried his lover near the old quarry - an area he often cycled.
Afterwards, he went to Miss Eastwood's house, where friends and family had gathered, acting "worried and concerned" and hugging her sister Gemma.
In court, Gemma Eastwood fixed Stirling with a stare, as she said: "The murderer's family haven't lost a loved one, they can go and and visit him and speak to him on the phone.
"I will never get a chance to see my sister or speak to her on the phone, because of what he did to my sister."
Stirling looked away, as she continued: "On the night Samantha went missing, the accused had the audacity to turn up at my sister's house.
"He had the nerve to walk around my sister's, like nothing had happened."
She added: "Before he left my sister's house that night he hugged me, after he had killed my sister.
"Forever this will haunt me."
The day after the killing, Stirling sent messages off Miss Eastwood's mobile phone to her sister, pretending to be from Samantha.
In those texts, he said: "I just want to be left alone", and claimed the health worker was with a man she met "off the internet".
The judge described the sending of those messages as acts of "breath-taking cruelty".
He also visited the neighbour whose CCTV would later show his van arriving and leaving, enquiring about the footage, again under a pretence of searching for Miss Eastwood.
Stirling, who was arrested once and released before Miss Eastwood's remains were found, was undone when on August 4 he was seen by police, cycling back to the area of the makeshift grave to check it was undisturbed.
The area was subsequently searched by police, the body discovered, and electrical tape used to wrap the duvet sheet found to match that in Stirling's van.