Police Investigate Hit And Run After Teenage Cyclist Death In Wednesbury
27 March 2015, 17:47 | Updated: 27 March 2015, 18:59
Heart's been told a man arrested over the death of a 15-year-old cyclist in the Black Country has been released without charge.
Adam Jones from Wednesbury, was crossing the junction of Beacon View Road and Walsall Road in West Bromwich with his bicycle just after 7.30pm last night when he was struck by the Volkswagen Bora which was travelling from Stone Cross towards Walsall.
The 15-year-old was flung through the car windscreen and was pronounced dead a short time later.
The driver of the VW callously abandoned the vehicle and ran from the scene.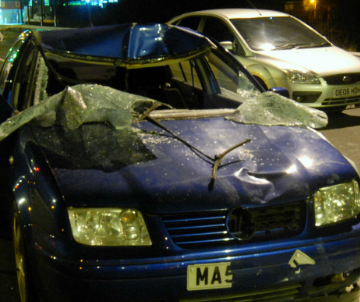 Inspector Paul Bennett, head of the Collision Investigation Unit, said: "The driver of the vehicle would have known that Adam had suffered catastrophic injuries, yet he still ran away without seeking medical assistance for him. I am appealing to him directly to do the right thing and come forward.
"I would also like to hear from anyone who recognises the car and knows who uses it, possibly having seen it parked outside an address or worked on it in a garage, to help us trace the driver."
The car is a bright blue colour with distinctive stickers on the rear windscreen and the vehicle registration number WA52 XVV.
The registered keeper of the car sold the vehicle several months ago and has been eliminated from police inquiries.
A 24-year-old man arrested at the scene has been released without charge, after it became clear he was not connected to the collision.
Anyone with information should contact on 101.