Primary School Evacuated After Huge Warehouse Fire In Stafford
2 March 2016, 15:06 | Updated: 2 March 2016, 15:18
A number of homes and a primary school have been evacuated after a huge fire at a warehouse in Stafford this morning.
More than 50 fire fighters have been tackling the fire at the factory fire on the Astonfields Industrial Estate. Staffordshire Fire Service say the flames has now been contained.
Photos and videos posted on social media showed flames shooting from the building's roof and a large, thick plume of black smoke rising over the town.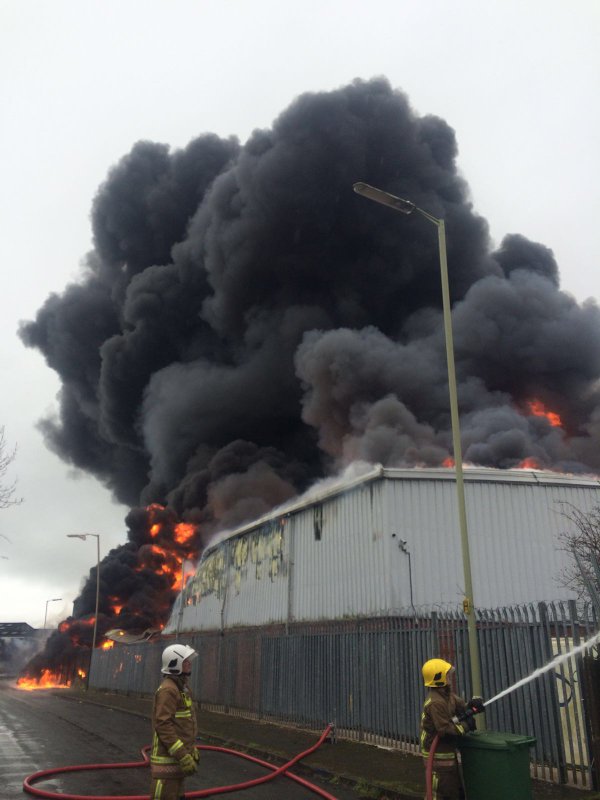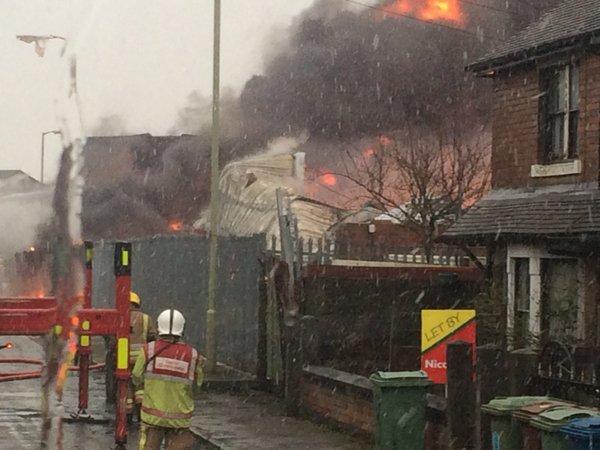 Staffordshire Fire and Rescue Service said one person was being treated for minor burns but there were no reports of any further casualties.
A fire brigade spokesman said there was "a large quantity of oil - a 40,000-litre container of heat transfer oil'' on the premises, but it was not alight.
In total about 14 crews from both Staffordshire and the West Midlands Fire Service attended the incident.
St Patrick's Catholic school has been evacuated along with a number of nearby homes.
Rob Barber, Staffordshire Fire's director of response, said: "We are currently attending a large fire at Global Hygiene LLP on Astonfields Industrial Estate on Drummond Road in Stafford.
"Due to the significant amount of smoke that is billowing from the building, I would strongly advise residents to keep their windows and doors closed.''
There are concerns about the amount of smoke still in the area and Staffordshire Fire Service say the fire could go on well into the evening.

Doctor David Kirrage, Consultant in Health Protection for Public Health England, said: "Our is advice is for people to stay out of the smoke plume where possible. For those homes in the path of the smoke plume please keep doors and windows closed.

"People who suffer from asthma should make sure that they have any inhalers close to hand in case they need them. From the information we have at the moment we do not believe there are any particularly harmful chemicals in the smoke but we know that any smoke acts as an irritant and should be avoided."
A West Midlands Ambulance Service spokesman said: "One man has been treated at the scene for minor burns to his hands. Following treatment from medics the man was discharged and did not require hospital treatment.

"Medics from the Trusts Hazardous Area Response Team will remain on scene to support the fire service whilst they continue to fight the large fire."

"Due to the large amount of smoke, local residents are advised to keep windows closed."
The fire is at the offices of wholesaler Global Hygiene Ltd and a director of Global Hygiene said:

"The fire that broke out on the Astonfields industrial estate in Stafford on the morning of March 2, 2016, originated in a Global Hygiene building that was under construction.

"There was one person in the building at the time the fire started and he was evacuated safely. Some of the neighbouring units on the technology park were also evacuated while the fire was being put out, to ensure the safety of everyone on site. We are very grateful to the fire services who responded very promptly to the emergency call.

"It is currently too early to comment on the causes of the fire, but Global Hygiene will work closely with the fire services and police services and perform a thorough investigation in the following days. A detailed statement will follow when more information is available."