Prime Minister Says Telford Child Sex Abuse Inquiry Should Start As Quickly As Possible
14 March 2018, 17:38 | Updated: 14 March 2018, 17:45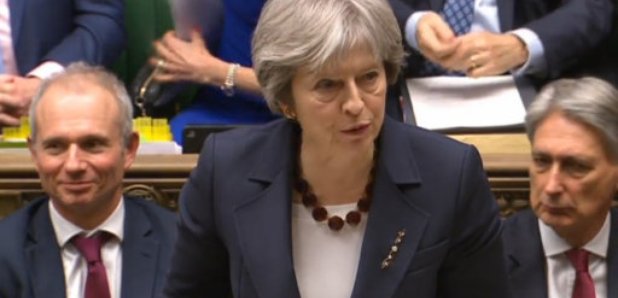 Theresa May has told MPs an inquiry into child sexual exploitation in Telford should get under way as quickly possible.
The Prime Minister said "we have all been shocked" by the "horrific" case, and said she was pleased that an inquiry would happen.

During PMQs, Tory Telford MP Lucy Allan said: "Like many towns and cities across the country, Telford has had some experiences of distressing cases of child sexual exploitation.

"The authorities in Telford have now agreed to conduct an independent inquiry to find out what happened and to give victims answers.

"Will (Mrs May) join me in congratulating two brave women - campaigner Holly Archer and Sunday Mirror journalist Geraldine MckElvey - for their work in bringing this about, and will she agree to do everything possible to ensure this inquiry starts without delay and leaves no stone unturned?"

Mrs May replied: "I think we have all been shocked by the horrific case that we have seen in Telford of some of the most vulnerable in our country being preyed upon by ruthless criminals.

"Sadly, of course, this is not the first example that we have seen taking place across our country.

"I'm very happy to join (Ms Allan) in congratulating Holly and Geraldine for the work that they have done - this is not easy but it is right that they have brought this to light and that action can be taken.

"I am pleased that the authorities are now going to conduct an inquiry: it is, as (Ms Allan) says, important that it begins its work in order to get to the truth and does that as quickly as possible."

Communities Secretary Sajid Javid later told MPs the reports from Telford highlighted the need for the Government's new integration strategy.

It included measures to boost English language skills and proposals to require schools whose pupils come from a single ethnic or religious community to ensure they mix with children from other backgrounds.

Outlining the strategy to MPs, Mr Javid said: "None of these measures dilutes the Government's commitment to protect people's legitimate rights to free speech and to practice their religion within the law.

"Indeed, the green paper reaffirms this commitment.

"But we cannot and we will not shy away from challenging cultural practices that are harmful, particularly for women and girls.

"Recent news about the abuses in Telford highlights just how important this issue is."