Puppy Farm Reports Up In The West Midlands
20 July 2018, 07:24 | Updated: 20 July 2018, 07:25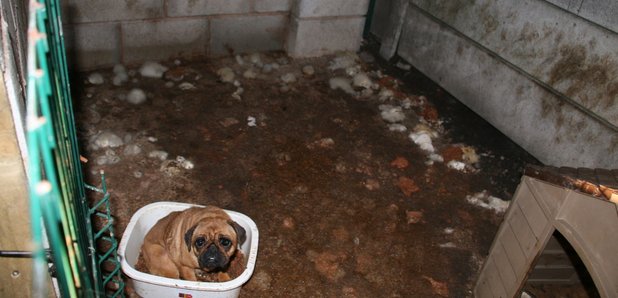 An investigation by Heart has found a big rise in the number of puppies being sold illegally online.
In the West Midlands, there have been almost 1000 calls about illegal puppy trading in the last two years.
Last year alone saw 462 reports in the region; 46 in Shropshire, 121 in Staffordshire, 47 in Warwickshire, 192 in the West Midlands and 56 in Worcestershire.
What is 'Puppy Farming'?
Ian Briggs in from the RSPCA hub near Shrewsbury: "It's a problem across the whole of the UK. Dogs being intensively bread in Eastern Europe in poor welfare conditions, shipped into the country carrying diseases which then manifest and emerge when they've been bought."
Herchy Boal, RSPCA Frankley, says: "This is the commercial breeding and sale of puppies for a profit. Animal welfare is not a concern. Traders will go abroad, buy a litter, and then bring them to England, leave them at different homes to make it look legit, then they're sold to a buyer that looks for them on the internet at sites like gumtree. Often they are too young and have not had the right health checks and will suffer from all kinds of diseases. Frequently, they die."
"80% of dogs that are re-homed are bought online. It's an absolutely massive business and extremely lucrative. There aren't any checks, sometimes meet on the motorway, if it looks too cheap for that breed, something must be wrong. Is it vaccinated? It's a legal requirement for it to be micro-chipped… has that happened?"
Who's doing it?
Herchy Boal: "It's all over. It's not pocketed to a certain area. It can happen in Devon, it can happen in Liverpool. It's everywhere.
"We've been to addresses where puppies are being sold and before we've got there they've moved on to another address. As soon as things get too hot they'll literally move onto another premises. This is an organised situation. They're aware they'll get complaints and have to shut up shop."
Ian Briggs: "It's financially driven by unscrupulous dealers looking to make as much money as possible out of these dogs. There's no effort on their part to establish good welfare. The minimum is spent regards veterinary care and then they are shipped hundreds of miles in poor conditions and at too young an age and then sold within a matter of days over the Internet.
"The trade in puppies is so great and so financially lucrative so you have a lot of organised crime gangs involved, purely to bring dogs into the country and sell them as quickly as possible. These people are criminals and set up to dupe the buyer. They'll rent empty properties so they can sell dogs from them to distance themselves from the point of sale, fake the paperwork and get you to meet them in the middle of nowhere. They're relying on the buyer feeling sorry for the puppy and take it off their hands. All they're interested in is you parting with your cash."
Where do the dogs come from?
Ian Briggs: "Most are coming from Southern Ireland and Eastern Europe. We have no idea of the welfare conditions they're being born into and disease is rife. The paperwork coming with them is questionable. You've got unvaccinated dogs coming in with rabies and the implications are far-reaching. All it needs is for one dog to come in with an infectious disease and start spreading and then we have problems right across the UK."
Which breeds?
Ian Briggs: "Your small popular dogs like Pomeranians, dogs made popular by celebrities – you're French bulldogs. Cockerpoos and designer cross-breeds are easily sellable and they will sell these extremely quickly."
Warning signs:
Ian Briggs: "Look at the litter, if they're acting lethargic, have discharge coming from the nose, lots of mess… they're all signs something could be wrong. It could end up costing you the buyer thousands of pounds in veterinary bills or the dog could end up dying."
Herchy Boal: "If the mum isn't there, absolutely turn around and walk away. Make sure it's a mother… it might be a male dog. Get a receipt. Maybe do a bank transfer. Pay a deposit and go back again. Don't be tempted by claims 'it's the last one' – an ideal breeder will let you come and have a look when they're two or three weeks old and then come back again.
"No puppy farmer I've ever dealt with has ever been remorseful. They're actually really arrogant people. They are in it just for the profit, it doesn't matter to them that these puppies are dying and it's because the sentences aren't severe enough. The maximum they can get is six months in jail, and people are coming out and going back to the same lifestyle."
How do we stop it?
Ian Briggs: "This has been increasing for five or six years. More and more calls each year, more operations to try and disrupt this trade. It's not something we can do on our own. In the 20 years I've been with the RSPCA I've never seen an area of animal crime explode like this has and it's all down to money. We need to be restricting the flow of dogs coming into the country and cutting it off at source."
Herchy Boal: "Legislation needs to change. We would like it to be stopped that puppies are sold on the Internet and that all puppy breeders are licensed.
"Buy from the Kennel Club or registered breeders. Speak to your vet. Look at the RSPCA site and do your research. A good breeder will at least give you the first vaccination and give you the vaccination card.
"When we do a raid we end up with a lot of puppies in our care after being seized so we are desperately looking for people to foster dogs temporarily. Often court cases can go on a long time and we don't want them growing up in a kennel environment. We cover the cost of that but what we need is the care and love from the owner/fosterer.
"I had a lady who hadn't had a dog for eight years because she was so devastated by the loss of her last dog. She bought a puppy and it died the same day she bought it, it was that sick. It's heart-breaking. I had a family that bought puppies close to Christmas Day and the daughter came down and found the puppy dead in its basket. It's something that will live with her forever."