Shrewsbury Man Fights For Right To Die
17 July 2017, 11:01 | Updated: 18 July 2017, 08:12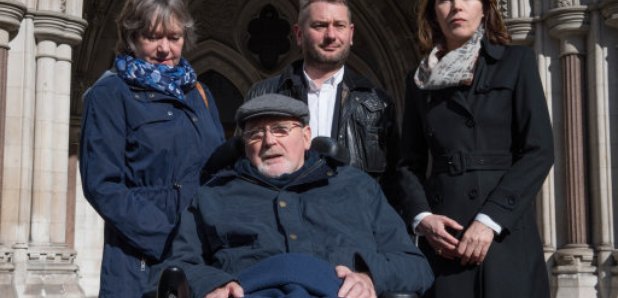 A man who is terminally ill with motor neurone disease is to continue his "fight for choice at the end of life'' at the High Court.
Retired college lecturer Noel Conway is bringing a judicial review over the current law on assisted dying.
The 67 year old from Shrewsbury, was diagnosed with the disease in November 2014 and is not expected to live past 12 months.
When he has less than six months to live and retains the mental capacity to make the decision, he wishes to be able to enlist assistance to bring about a "peaceful and dignified'' death.
The Campaign for Dignity in Dying is a charity that thinks the UK should have a law that allows dying people with six months or less to live the option to control their death.
Assisted suicide is deliberately helping or encouraging someone to take their own life, for example, by providing them with medicine to do so.
At the moment it's illegal and can result in 14 years in jail.
Mr Conway wants a declaration that the Suicide Act 1961 is incompatible with Article 8, which relates to respect for private and family life, and Article 14, which protects from discrimination.
He said: "I am more determined than ever to continue.
"I have the support of my loved ones and many thousands of others behind me; people who have donated over £90,000 towards my legal costs and sent heart-warming messages of encouragement to me and my family.
"I have lived my whole life on my own terms, in control of the choices and decisions I make".
"I know I am going to die anyway, but how and when should be up to me".
"To have the option of an assisted death available in this country would provide me and countless others with great reassurance and comfort".
"It would allow me to decide when I am ready to go, rather than be forced into a premature death by travelling to Dignitas at great emotional and financial cost, or to suffer a traumatic, drawn-out death at home."
Mr Conway has already been to the Court of Appeal to win the right for what he calls his "fight for choice at the end of life'' to proceed.
The case follows that brought by Tony Nicklinson, who suffered from paralysis after a stroke.
Mr Conway's case differs in that he has a terminal illness and his legal team is setting out strict criteria and clear potential safeguards to protect the vulnerable from any abuse of the system.
The Nicklinson case was dismissed in 2014 by the Supreme Court, which said it was important that Parliament debated the issues before any decision was made by the courts.
After debates in the House of Commons and the House of Lords, Parliament decided, at least for the moment, not to provide for legislative exceptions to the 1961 Act.
Mr Conway will not attend the five-day hearing in London.
It is expected that a ruling will not be given until the autumn.