Tipton Man Giving Banning Order For Euro2016 Violence
14 June 2016, 13:18 | Updated: 14 June 2016, 19:05
A man from the Black Country's been given a 5 year football banning order after violence before England's first Euro 2016 game.
A 24-year-old hooligan has been handed a five-year football banning order for his involvement in violent disorder ahead of England's opening Euro 2016 match against Russia.

Daniel Warlow, of Spring Meadow, Tipton did not contest the application by the Crown Prosecution Service on behalf of West Midlands Police on Tuesday.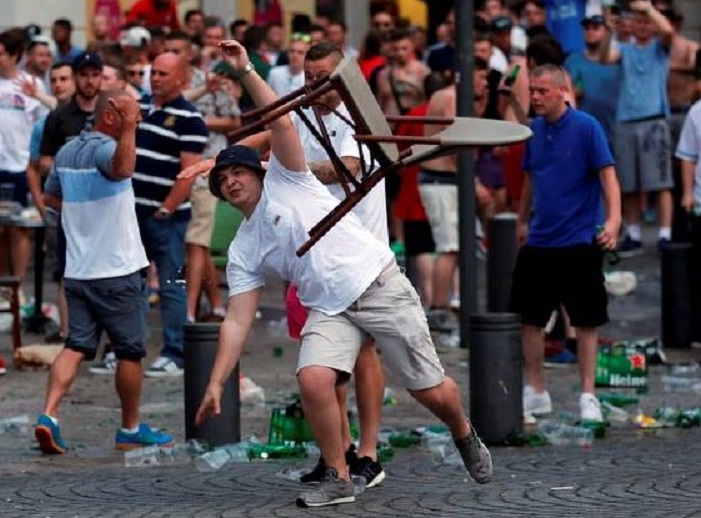 Sergeant Mick Wilkinson from the Football Unit, said: "We have officers working with all professional clubs in the region to tackle football violence – and one of them recognised Warlow during a news clip showing the disorder in Marseille.
"We acted swiftly to apply for an FBO and the court summons was delivered to him personally at his home address on Monday morning.
"Warlow is someone who has been on our radar for some time as being linked to 'risk' fan groups and disorder at matches.
"The FBO now bans him from attending games – and from entering a specified exclusion zone at stadiums involving Birmingham City before and after kick-off – and international matches.
"West Midlands Police has officers in France supporting the policing operation; we know the vast majority of fans are behaving themselves and enjoying supporting their country. People may be under the impression that if they cause trouble abroad we are powerless to act here – but this case illustrates there will be repercussions and we will take action.
"We are united with clubs across the West Midlands to stamp out football-related trouble and to ensure match-day is an enjoyable, safe environment for everyone."
Prosecuting, Amar Sanghara, said a police "spotter'' in the UK saw coverage of violence in Marseille on Friday June 10, and saw video showing Birmingham City supporter Warlow "throwing a chair''.

In sentencing, district judge Shamim Qureshi told him: "I'm not going to give you a lecture, I think you've learned from experience of the last week how things can go terribly wrong in society.''
The judge added Warlow would be "vilified'' for his behaviour but warned other England fans caught up in the trouble they would also get their "just desserts'' upon return.

Judge Qureshi said: "It's important to realise that I expect you're the first person subject to this application in this country, so you'll no doubt be vilified for that on social media and the internet.

"But there are many others in the same boat - you are not a scapegoat.

"Each will receive their just desserts when brought to book.''

The court heard that Blues' supporter Warlow was known to police as a member of a "risk group'' of Birmingham City supporters, himself involved in at least nine incidents of domestic football disorder since 2010.

Because of his status on the police watch list, Warlow and two other males were stopped and spoken to by officers at Birmingham Airport on June 9.

The group flew on to Brussels, and then Marseille, having told British police there would be stopping in the city.

Mr Sanghara said: "Warlow stated he was a member of the England Supporters' Club and had a ticket for the Euro 2016 game on June 11 (against Russia).''