Wall Inspected Before Collapse Onto Two Children In Worcestershire
8 February 2016, 20:22 | Updated: 8 February 2016, 20:28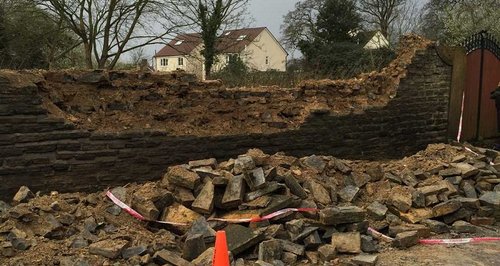 An investigation's begun into how a wall, looked at by inspectors, fell on two children in Worcestershire yesterday.
It came down in strong winds during storm Imogen and aleft the 5 and 7 year-olds with leg injuries.
Wychavon District Council say the wall passed an inspection two weeks ago - and say they will now look at what more could have been done.
The local authority's managing director, Jack Hegarty, said in a statement: "First and foremost our thoughts are with the two children and their families involved in this incident and we wish them a speedy recovery.
"I can confirm a complaint was made to us about the condition of the wall on January 22 2016.
"An officer from Building Control visited the site three days later and the owner was advised on January 26 to carry out work to repair the wall as well as a safety inspection to ensure it posed no immediate risk to the public."
The owner of the wall informed the council a week ago that an expert in dry stone walling had conducted an assessment and said there was no immediate danger to the public.
The council was told that repair work would be carried out as soon as the weather improved.
Mr Hegarty added: "We take this matter seriously and will review the case to ensure there was nothing more we could have done.''