West Midlands Charity Warn of Child Food Poverty
7 September 2018, 15:06 | Updated: 7 September 2018, 15:09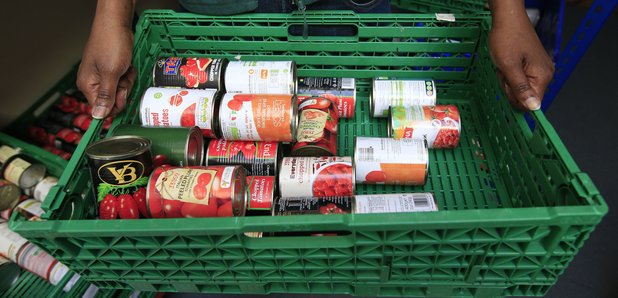 FareShare West Midlands, part of the UK's largest food redistribution charity, has revealed it provided meals to 5,000 children each week across Birmingham and the West Midlands over the school summer holiday - a fivefold increase in the number of beneficiaries from 2017.
The stark increase came as part of the charity's ActiveAte campaign which aimed to raise awareness of children at risk of food poverty in the West Midlands during school holidays.

Last year saw FareShare West Midlands redistribute surplus food to 18 groups providing provision, between them, to 1,000 children each week over the school holidays. Following a recruitment drive, 32 holiday programmes across the West Midlands signed up to receive regular food deliveries, with 5,000 child beneficiaries between them - five times as many as 2017.

Programmes receiving food also provide activities including sport, drama and cooking lessons, to ensure that children are well fed and kept active and learning - ready to return to school happy and healthy.

With an estimated three million children at risk of going hungry over the school holidays[1], the ActiveAte campaign was launched to appeal to the public for donations during the period of additional activity. For as little as £20, donors can enable FareShare to provide 80 nutritious meals at children and family programmes.

Mandy Hawkes, Business Development Manager at FareShare West Midlands, said: "For parents of children who normally receive free school meals, the summer can be a difficult time to make ends meet - with the strain of added food costs, activities and childcare meaning many families can struggle to provide food.

"ActiveAte is our campaign to address this issue, and this year's figures across the West Midlands, particularly in comparison to 2017, demonstrate the glaring need for food provision in our communities.

"With the support of our food partners, we're grateful we were able to support more frontline holiday projects than any summer before. But in order to ensure no child goes hungry next time schools break, we are appealing both to the food industry for an increased provision of nutritious food, as well as to the public for donations. Just £7 can have a real, tangible impact - providing 28 meals for children at a holiday project."

Organisations working in some of the region's most deprived areas- such as Meriden Adventure Playground - receive nutritious, healthy food such as fruit, vegetables, sandwiches and juice from FareShare's West Midlands warehouse.

Ellen Delaney, Playworker at Meriden Adventure Playground, said: "We know that the summer holidays can be a particularly difficult time, so to have FareShare provide food is a vital resource. Many hard working families often struggle to cook and afford nutritious meals due to the time and costs healthy groceries demand, but through this food we were able to ensure 200 children are well fed with a nutritious diet each week - which provides them with the energy to keep active and socialised throughout the summer."

To find out more and donate to FareShare West Midlands' ActiveAte campaign, visit www.fareshare.org.uk/

ENDS


Notes to editors

How donations could help:

" £7 could enable FareShare to provide 28 meals for children at a holiday project.

" £20 could enable FareShare to provide 80 meals for children at a holiday project.

" £60 could enable FareShare to feed a group of 24 children breakfast every weekday morning for two weeks.

" £120 could enable FareShare to provide a lunch for ten children on every day of the summer holidays.