West Midlands drug gang jailed
26 October 2018, 14:05 | Updated: 26 October 2018, 14:07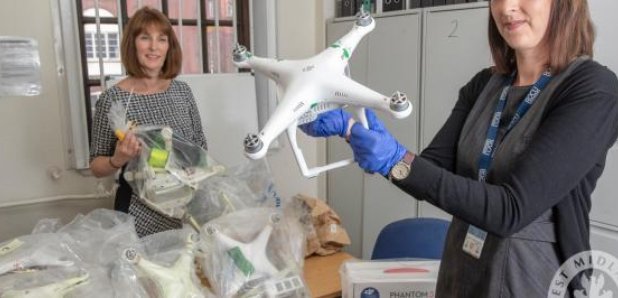 Seven members of a gang which used drones to airlift £500,000 worth of drugs into prisons have been given jail terms ranging from three to 10 years.

A judge at Birmingham Crown Court - who handed suspended jail terms and a community order to six others involved in the plot - said deterrent sentences were "essential" to help prevent similar offending.
An earlier trial was told drone pilots, drivers and look-outs conspired with prisoners to smuggle drugs into seven jails, including HMP Birmingham and HMP Liverpool.
A total of 11 drones, including some which had crashed, were seized during police inquiries into flights which also targeted HMP Wymott in Lancashire, HMP Hewell, in Worcestershire, HMP Risley in Cheshire, and Oakwood and Featherstone jails in Staffordshire.
Passing sentence on a total of 13 defendants convicted of conspiracy charges, Judge Simon Drew QC said: "Each of you falls to be sentenced for your part in conveying controlled drugs, mobile phones and Sim cards into prisons up and down the country.
"The method you chose to do this was both carefully planned and executed. Each of you played a part in a wider conspiracy which resulted in approximately 100 separate deliveries.
"This was a sophisticated commercial operation and due to the high value placed on drugs and mobile phones in prisons, designed to make those of you who ran the operation hundreds of thousands of pounds in profit."
Judge Drew said drug and mobile phone use in prisons had caused heightened levels of violence, an increase in self-harm and deaths, as well as allowing witness intimidation and illegal financial transactions.
The judge told the plotters: "I have no doubt each one of you knew exactly what you were getting involved in."