West Midlands Police Forces React To London Bridge Attack
5 June 2017, 13:22 | Updated: 5 June 2017, 13:36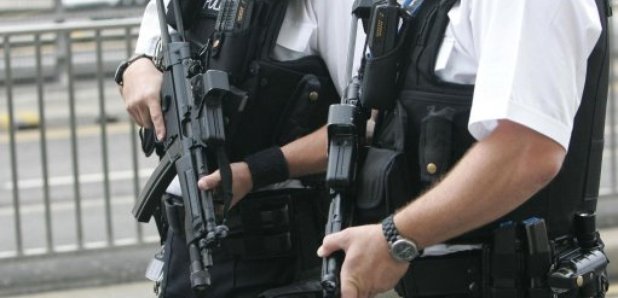 Police forces across the West Midlands have been reacting to the terror attack on London Bridge.
After the terror attack in London on Saturday night police forces across the West Midlands have been reacting to the news.
7 people were killed when a van hit pedestrians on London Bridge before three men attack passersby with knives in Borough market.
Extra police were put on over the weekend at big events in the West Midlands such as the cricket at Edgbaston and Motofest in Coventry.
Staffordshire, West Mercia and West Midlands Police have all released statements reassuring the public and asking them to remain vigilant.
West Midlands Police Chief Constable Dave Thompson said: "Our hearts go out to the family and friends of those who lost their lives in London. We also think of those who witnessed terrible acts of violence.

"Among the carnage and confusion of this terror attack, the emergency services and ordinary people displayed remarkable acts of courage and human kindness.

"We're in close contact with colleagues in the Metropolitan Police to offer our support and to understand more about the attack.

"As people would expect, we're once again reviewing all of our already well-rehearsed plans and will take any steps necessary to keep people safe.

"Locally, we were quick to respond following Saturday's attack and purely as a reassurance move we temporarily restricted access to Birmingham's Broad Street while businesses remained as usual. The restrictions were lifted at 3am having been implemented at 11.30pm.

"Other key locations across the region also saw enhanced patrols. Again, this was simply to reassure people worried by events in the capital and not in response to any local threat."

West Midlands Police and Crime Commissioner David Jamieson, said: "After the awful terrorist attack in London my thoughts are with the victims and their families.

"As always the emergency services displayed heroism in the face of danger and I pay tribute to them.

"I am in regular contact with the Chief Constable and am working with him to ensure people of the West Midlands continue to be protected.

"I would urge people to be vigilant, but above all else carry on with your daily lives. We should not be and will not be cowed by those who seek to divide us."
West Mercia police released this statement:
Statement from Deputy Chief Constable Karen Manners:

"Following last night's tragic events in London our thoughts are with the victims and their families.

"The threat level to the country remains at 'severe'. This means that our policing response and advice to communities will remain the same as last week when the threat level returned to 'severe' after being heightened to 'critical' in the aftermath of the incident at Manchester Arena on 22 May.

"There is no intelligence to suggest there is any specific threat to the communities in the Warwickshire or West Mercia policing areas.

"We continue to urge people to be vigilant but not alarmed. Report any suspicious behaviour or activity to the anti-terrorist hotline on 0800 789 321. In an emergency you should always call 999.

"High-visibility patrols were increased in response to the Manchester Arena incident and this will continue to be the case in the immediate aftermath of last night's incident in London. We will continue to review the situation and ensure an appropriate policing response remains in place.

"We will also continue to monitor tension and concerns in our communities.

"I would like to take this opportunity to thank our communities for their ongoing support and vigilance at what is an extremely challenging time for everyone."
Staffordshire Police Assistant Chief Constable Nick Adderley said: "At this stage there is no intelligence to suggest that we are at an increased risk of a terrorist act here in Staffordshire. However we constantly monitor this and adapt our approach accordingly.

"The threat level national remains at severe. This means an attack is still highly likely, so I would urge all of our communities to remain vigilant and report anything suspicious.

"Tragic events like last night's, remind us that attacks can occur at any time or place, without warning. As a result we would urge everyone to remain vigilant and report any suspicious activity to us, as a matter of urgency. You may question if you should contact us but if something doesn't feel right call 0800 789 321, or in an emergency always call 999. We act on all information you provide us with.

"Across Staffordshire we have many uniformed police officers and PCSOs on duty. They are here to protect you and keep you safe every day of the year, but at times when we are all feeling vulnerable this is more important than ever. We hope you find this presence reassuring.

"Locally the West Midlands Counter Terrorism Unit continues to work with national security services to keep our region safe.

"Once again I would like to thank the public for their unwavering support in helping us to keep communities safe."