West Midlands University And Hospital To Research Safer Births For Big Babies
27 September 2017, 18:19 | Updated: 27 September 2017, 18:26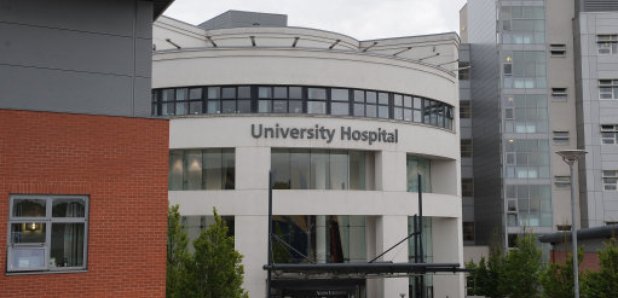 Researchers at University Hospital in Coventry and Warwick University are examining new methods to protect "big babies" during labour.
The new Big Baby Trial will look into whether mothers should deliver their offspring early in a bid to reduce complications in labour.

One of the major problems with delivering a larger baby can be difficulty with delivering the shoulders after the head has come out.

This can lead to a condition called Erb's Palsy which is caused by damage to nerves in the neck during birth.

Experts led by a team from the University of Warwick, University Hospitals Coventry and Warwickshire NHS Trust and the Perinatal Institute, are recruiting 4,000 pregnant women, whose babies are suspected to be larger than average, to the trial across 60 maternity hospitals in England.

During the three-and-a-half-year trial, which is funded by the National Institute for Health Research and being run in collaboration with King's College London and the Shrewsbury and Telford Hospital NHS Trust, women will randomly be allocated into either an early induction of labour group, with the aim to be delivered at around 38 weeks, or a control group where care is as normal and onset labour is awaited to start naturally.

It is hoped that the study will determine the safest method of care for these women and babies.

"As well as being extremely traumatic and painful for the mother, it can cause children to be born with conditions such as Erb's Palsy, which is caused by damage to nerves in the neck during birth," said Professor Siobhan Quenby of Warwick Medical School.

"This condition can debilitate the use of a baby's arm, which in some cases can't be rectified."

Karen Hillyer, chairperson of the Erb's Palsy Group said: "We are proud to support the 'Big Baby Trial'. We currently have over 2,400 families registered as members of our organisation which illustrates how many families are affected by this condition.

"We are looking forward to the study and hope it will help prevent or at least minimise the effect of Erb's Palsy on children, mums and families."

Jackie Dewdney's son Samuel suffers from the condition, which has led to difficulties using a pen, cutting up food and putting on his school tie.

He was born weighing 9lb 14oz in 2004.

Ms Dewdney, 43, from Shefford, Bedfordshire, said: "When Samuel was born he weighed 9lb 14oz - much bigger than expected, and I wasn't prepared for the problems which started during delivery.

"About three hours into labour in the last 20 minutes I knew there were problems when the midwife said he was 'turtling' - that is, his head had delivered but his shoulder was stuck - and as a result his head disappeared back into my pelvis

"It wasn't till the following day that I was told there may be problems with Samuel. The doctor told me he has a condition called Erb's Palsy which affects one or all five of the primary nerves that supply movement and feeling to an arm.

"The doctor told us he'd recover by the time he was three months old and he may need a small amount of physiotherapy.

"Now aged 13, Samuel still has the condition which has affected the nerves in his shoulder. He is due an assessment soon in Leeds and there is the chance of an operation that will allow him to use his wrist with more ease.

"Even if this study prevents just one woman going through what I have, it will be worth it."

Mandy Forrester, head of quality and standards at the Royal College of Midwives, said: "We welcome the research and look forward to the results.

"The key issue is that women have the evidence on which to base their decisions about their pregnancy and about how they want to give birth.

"Midwives and doctors will be there to advise and support women with their decision-making.

"Ultimately we need to ensure that women have the safest possible birth and this research will hopefully contribute towards that goal."