West Mids Police Pledge Increase In Officers Dedicated To Fighting Knife Crime
21 February 2019, 17:30 | Updated: 21 February 2019, 17:43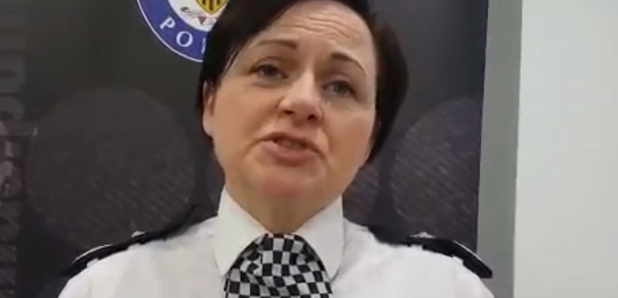 A senior West Midlands Police officer today pledged to leave 'no stone unturned' in the hunt for the killer or killers of a boy aged 16, as an increase in officers dedicated to the fight on knife crime was announced.
Deputy Chief Constable Louisa Rolfe called on communities to work with police to identify those involved in violent crime involving knives.
Detectives opened a murder investigation after the teenager was discovered with fatal injuries in Birmingham last night (20 February).
Officers were called to Herbert Road, Small Heath, at around 8pm.
The young victim was found critically injured having suffered stab wounds. Despite the best efforts of medics he was pronounced dead at the scene.
A murder investigation's underway after a 16yo boy was stabbed to death in the #SmallHeath area of #Birmingham. Our reporter @radiokate1 is at the scene. #HeartNews pic.twitter.com/udBw6mNbtq

— Heart West Midlands News (@HeartWMidsNews) February 21, 2019
DCC Louisa Rolfe said: "We'll be leaving no stone unturned to find those responsible and bring them to justice. "You'll see a very robust policing response that's sensitive to the fears and concerns of our local communities.
"We want to work with our communities to understand why our young people might be carrying knives but also working with them to do what we can to protect them.
"You'll see more officers out in our communities. You might not see everything we do; we'll be working with partners in our Regional Organised Crime Unit to understand what might be driving this offending, and to disrupt it where we can.
"This will involve us using stop and search where we have appropriate intelligence and grounds to do so. If you can help us, if you have any information about this or other incidents, please call us.
"Help us to solve this very tragic crime but also work with us to protect our young people."
"We'll be leaving no stone unturned."

Deputy Chief Constable @WMPolice Louise Rolfe has been updating #HeartNews on last night's stabbing in Small Heath. pic.twitter.com/4OKFxDGAWE

— Heart West Midlands News (@HeartWMidsNews) February 21, 2019
The West Midlands Police and Crime Commissioner, David Jamieson, said: "I am deeply saddened that another young life has been lost on the streets of the West Midlands.
"My thoughts are with the boy's family, friends and the local community in Small Heath.
"This is a sickening waste of a life.
"I have been reassured by the Chief Constable that the investigation associated with this stabbing is being treated with the utmost urgency by the force.
"People in Birmingham will see more officers on the streets in the coming days which is designed to reassure local people."
.@WestMidsPCC has said last night's stabbing of a 16yo boy in #SmallHeath is "very sad news." He spoke to #HeartNews after unveiling a new knife bin in #Walsall yesterday. pic.twitter.com/tk2lKjkhbp

— Heart West Midlands News (@HeartWMidsNews) February 21, 2019