We Surprised Our Charity With Life A Changing Amount Of Money
13 April 2018, 16:07 | Updated: 14 May 2018, 16:42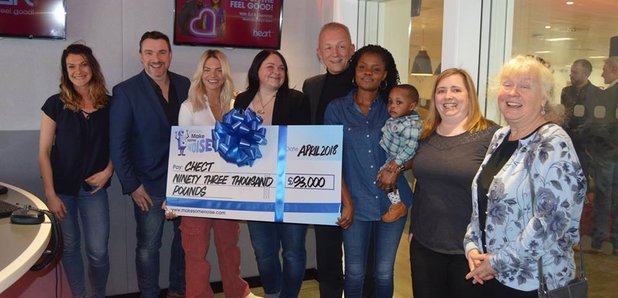 A big thank you to the West Midlands. You made it possible to award the Childhood Eye Cancer Trust with a life saving amount of money
Over the past 12 months, you've been dressing up, baking cakes, taking on some extreme challenges all to raise money and help Heart support Global's Make Some Noise.
Here in the West Midlands, we're supporting CHECT, the Childhood Eye Cancer Trust. A charity which helps fight retinoblastoma, a type of eye cancer that affects young children, mainly under the age of six.
Here's the moment we surprised them with a little help from Louisa Johnson
It's thanks to your amazing efforts that Global's Make Some Noise has been able to give out a staggering £2,500,500 to 33 special small projects, so they can continue their life-changing work with youngsters and their families living with illness, disability or lack of opportunity.
Your generous donations will help us provide:
15,088 hours of support for youngsters living with disability
4,340 hours of much-needed help for young carers
4,772 hours of counselling for children experiencing illness or bereavement
4,679 hours of support for young people and their families affected by suicide and homelessness, and so much more.