An Incredible West Midlands Mum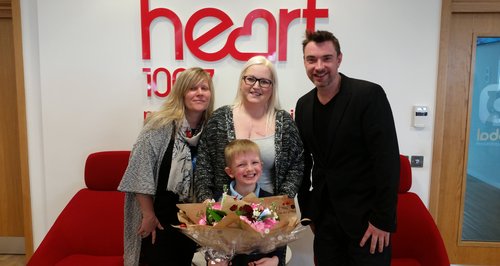 The West Midlands are full of brilliant mums. But when we found out about one in particular we knew we had to do something to celebrate her incredible bravery.
As we gear up to celebrate our own brilliant mums this weekend, it's also worth remembering the incredible feats that lots of other mums undertake throughout the year.
We got an email from Chelsee Codling, telling us about her amazing sister Sarah, who has not had the smoothest of years. It read:
I would like to tell you about a very Brave woman who is a super mum. My sister Sarah is a young woman with a beautiful boy called Jake. In 2005 she lost her eldest son Joseph as a baby and every year she keeps her his memory alive by raising money for charity.
7 weeks ago, Sarah, who's in her 20's, had a heart transplant as she had a congenital heart disease. It's been a terrifying time for us all but she is always happy with the most beautiful smile that keeps the whole family going. She campaigns tirelessly to raise awareness of the importance of organ donation and has encouraged so many new sign ups.
Sarah is on the road to recovery but still has a very difficult time ahead of her. Despite everything she is the best mom to her little boy and thinks about her donor every single day and is so very thankful, without her new heart she wouldn't of been given this second chance of life!
So through all of this Sarah has remained incredibly strong. We invited Chelsee and Sarah to our studios under the premise that Chelsee had won a studio tour on Facebook. Once she was in we surprised her with a call from someone very important to her. Listen to what happened here:

A huge thank you to Leekes in Coventry and Bilston and Hollybush Garden Centre and Aquaria for their generous support with this surprise. We're sure Sarah will enjoy her life changing gifts!