Big Town Showdown Final 2016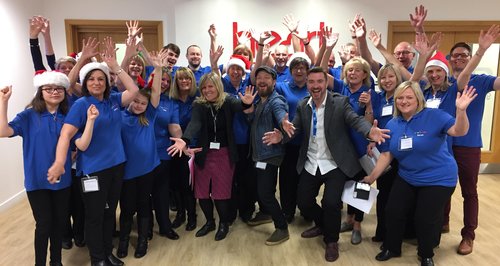 On Friday 2nd December our Big Town Showdown came to an end & Kings Norton were crowned the cleverest place in the West Mids!
Since September Ed & Rachel have been hunting for the cleverest place in the West Midlands, and they've finally found the answer.
They've had over 55 people take on the challenge with over 600 general knowledge questions written to test you every single morning.
Kings Norton stormed to the top of the leaderboard back in October and somehow managed to hold the top spot for over a month.
That means Andy from Kings Norton will now have bragging rights across the whole West Midlands along with some incredible prizes from around the region.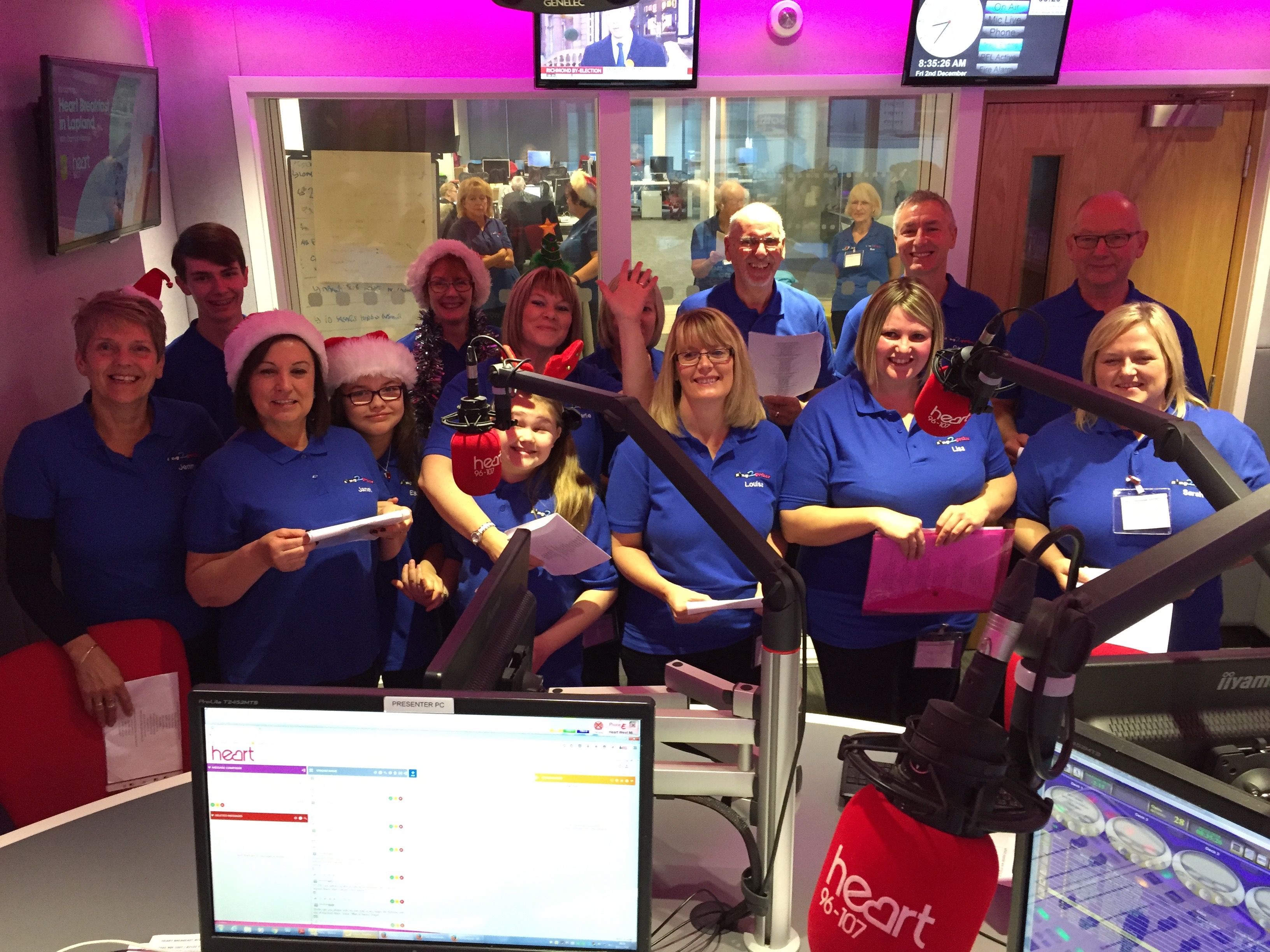 But Andy didn't know he had won until 8.20am on Friday morning as Christina had one final go at knocking him off the top spot, but her time of 59 seconds wasn't anywhere near good enough.
We invited in Sing2gether, a community choir from Walsall, into the Heart Studios to help us out with a very special prize for Andy!
Live on air they performed a West Midlands version of the 12 days of Christmas, with each day being a brand new and incredible prize for Andy to takeaway the same day!
Check out our 12 Days Of Christmas Song Here:
12 Heart Mugs
11 Jars Of East EndCurry
10 Cadburys Penguins - Only found at Cadburys World
9 Packs Of Scratchings
8 Cans Of Banks's Beer
7 Fidget Pies - Handmade by the Ludlow Food Centre in Shropshire
6 Boxes Of Typhoo established in Birmingham
5 Fresh Faggots
4 West Midlands Safari Park Tickets
3 Hour Spa Day at the amazing Santai Spa found in The Genting Hotel
2 Drayton Manor Tickets for 2017
and a Heart Breakfast Number Onesie…
This morning was the grand final of the Big Town Showdown on #HeartBreakfast! A Choir from Walsall sang a special song to Andy, our winner pic.twitter.com/AqahMYWNZs

— Ed and Rachel (@HeartBreakfast) December 2, 2016
Huge thanks to all the local companies that donated prizes to the Big Town Showdown final:
Thanks to everyone who took part in this fantastic series of the Big Town Showdown, check out the final leaderboard below:
| | | | | |
| --- | --- | --- | --- | --- |
| 1 | Kings Norton | 31.2 | Andy | 10 |
| 2 | Rugeley | 31.9 | Steph | 10 |
| 3 | Redditch | 32.3 | Andrea | 10 |
| 4 | Ashby De La Zouch | 33.6 | Kerry | 10 |
| 5 | Hinckley | 33.9 | Terri | 10 |
| 6 | Cannock | 34.1 | Laura | 10 |
| 7 | Coleshill | 35.7 | Angela | 10 |
| 8 | Stafford | 36 | Lorna | 10 |
| 9 | South Yardley | 42 | Jackie | 9 |
| 10 | Cradley Heath | 43.8 | Izzy | 9 |
| 11 | Burton Upon Trent | 44 | Linda | 9 |
| 12 | Hampton in Arden | 45 | Naomi | 9 |
| 13 | Stratford | 45.1 | Steve | 9 |
| 14 | Tamworth | 49 | Jodie | 9 |
| 15 | Walmley | 49.4 | Jack | 9 |
| 16 | Hall Green | 49.6 | Kerry | 9 |
| 17 | Wolverhampton | 50.7 | Rachel | 9 |
| 18 | Stourbridge | 51.9 | Billy | 10 |
| 19 | Alvechurch | 52 | Lesley | 9 |
| 20 | Stetchford | 52.5 | Karen | 8 |
| 21 | Shifnal | 52.8 | Joanne | 9 |
| 22 | Bromsgrove | 52.9 | Tariq | 8 |
| 23 | Wednesfield | 53 | Zoe | 9 |
| 24 | Bridgnorth | 53.9 | Debbie | 8 |
| 25 | Lichfield | 56.2 | Lynne | 9 |
| 26 | Penkridge | 56.6 | Nicole | 8 |
| 27 | Cubbington | 57.3 | Saffia | |
| 28 | Ladywood | 57.8 | Marianne | 8 |
| 29 | Kingshurst | 59.3 | Christina | 8 |
| 30 | Walsall Wood | 1.00.1 | Craig | 8 |
| 31 | Atherstone | 1.01.4 | Rachel | 8 |
| 32 | Sutton Coldfield | 1.02.2 | Ashleigh | 8 |
| 33 | Dudley | 1.05.6 | Emily | 8 |
| 34 | Quinton | 1.07.7 | Sam | 8 |
| 35 | Bartley Green | 1.07.7 | Caron | 7 |
| 36 | West Brom | 1.08.2 | Claire | 7 |
| 37 | Nuneaton | 1.09.1 | Lisa | 9 |
| 38 | Walsall | 1.10.5 | Jason | 8 |
| 39 | Oldbury | 1.10.9 | Bal | 8 |
| 40 | Halesowen | 1.11.0 | | 8 |
| 41 | Dunchurch | 1.11.2 | Danielle | 7 |
| 42 | Worcester | 1.11.5 | Sally Anne | 7 |
| 43 | Solihull | 1.11.8 | Amy | 8 |
| 44 | Kenilworth | 1.13.4 | Sue | 6 |
| 45 | Kidderminster | 1.14.0 | Julie | |
| 46 | Shirley | 1.14.2 | Amy | 8 |
| 47 | Chelmsley Wood | 1.15.5 | Stephen | 7 |
| 48 | Knowle | 1.19.0 | Phillip | 6 |
| 49 | Kingstanding | 1.26.4 | Chris | 6 |
| 50 | Tipton | 1.28.4 | Gareth | 5 |
| 51 | Leamington Spa | 1.28.9 | Rob | 6 |
| 52 | Droitwich | 1.32.4 | Craig | 5 |
| 53 | Burntwood | 1.35.8 | Stacey | 5 |
| 54 | Coventry | 1.38.1 | Nicola | 6 |
| 55 | Bournville | 1.50.0 | Mike | 6 |
| 56 | Rubery | 2.02.6 | Jamie | 3 |
| 57 | Willenhall | 2.11 | Marianne | 3 |