Breakfast Blog: Sleeps 'Til Santa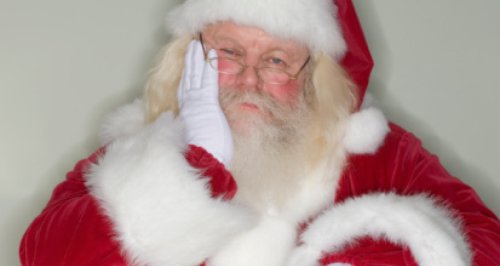 Nothing ruins a Friday morning more than an e-mail with bad news in it. And we received a miserable one. You won't like it.
Every year during the festive season we run the Christmas institution known as Sleeps 'Til Santa. We count down the days until Father Christmas arrives and plants the presents under the tree. It's as much a part of everyone's Christmas as the Frankfurt Market.
We received an e-mail from our boss, Paul Gerrard, telling us that it had been cancelled. He said it was "boring" and "nobody cared for it". We're devastated. And judging from your responses so are you.
Our text machine went in to overdrive and our Twitter account was buzzing with tweets from you telling us how saddened and angry you were with Paul's decision.
Deborah tweeted us asking if our boss was Scrooge. Maria sent us a message saying how "utterly disappointed" she was. She added "I hope there is a petition because I will gladly sign it".
George and Holly said that the boss does't deserve any presents this year.
Over on Facebook, Karen said the kids can't put the decorations up until the Sleeps 'Til Santa songs come on their radio!
If YOU want to tell our boss how much you love Sleeps 'Til Santa, and how wrong he is to ditch it, you can e-mail him on paul.gerrard@heart.co.uk or tweet @pmgerrard including #SaveSleepsTilSanta.
Listen back to the moment Mandy found out.
Breakfast Blog: Sleeps 'Til Santa
To cheer us up after this news, we had Men In Shorts perform for us. They perform at the Frankfurt German Market and were brilliant! Be sure to check them out at http://www.oompah-band.co.uk/