#GOLDbury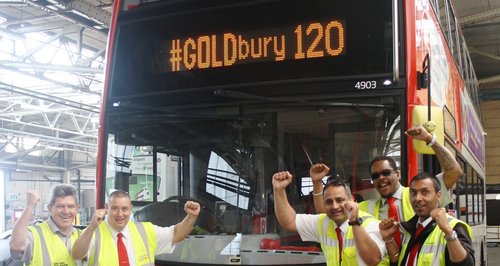 We're very proud to represent the West Midlands and we're also very proud of the people in the West Midlands.
None more so than the winner of the first gold medal at Glasgow 2014, Jodie Stimpson. We had to celebrate and thought there was no better way to do so than to rename her home town of Oldbury to GOLDbury.
So we started the #GOLDbury campaign. We got the tweets out on our @HeartBreakfast account and the reaction was great - plenty of you seemed to think it was a great way to celebrate!
First of all we heard from Oldbury Academy, Jodie's old school, who were excited that they could be known as the GOLDbury Academy. Then, we heard from a sports centre who had updated their address on their website to show them being in GOLDbury.
But then things got really big. Network West Midlands joined our campaign, getting behind the idea of changing the front of Oldbury bound buses to GOLDbury. We managed to speak to someone from National Express, who run many of the buses to persuade them to join in the celebration.
Listen here to find out what they thought:
The campaign continues! Follow us on Twitter @HeartBreakfast and #GOLDbury to keep up to date with the latest!