Clown Factor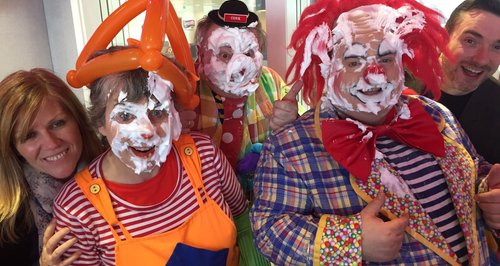 It's our Leap Day party on Monday and we invited 3 clowns into the studio to battle against each other to be our party clown.
Ed & Rachel are holding a party in the studio on Monday morning for their listener, Alison.
She will be turning 9 years old in 'Leap Age' on the 29th February so we're throwing her a party that any child would be jealous of.
So far we've sorted out the cake, the stilt walkers and we'll even have some cute animals coming in. But we still had one big issue to deal with...
We had 3 clowns that wanted to come to our Leap Day Party, and really, we only needed 1. So the only way to choose our winning party clown was with a game of 'Clown Factor'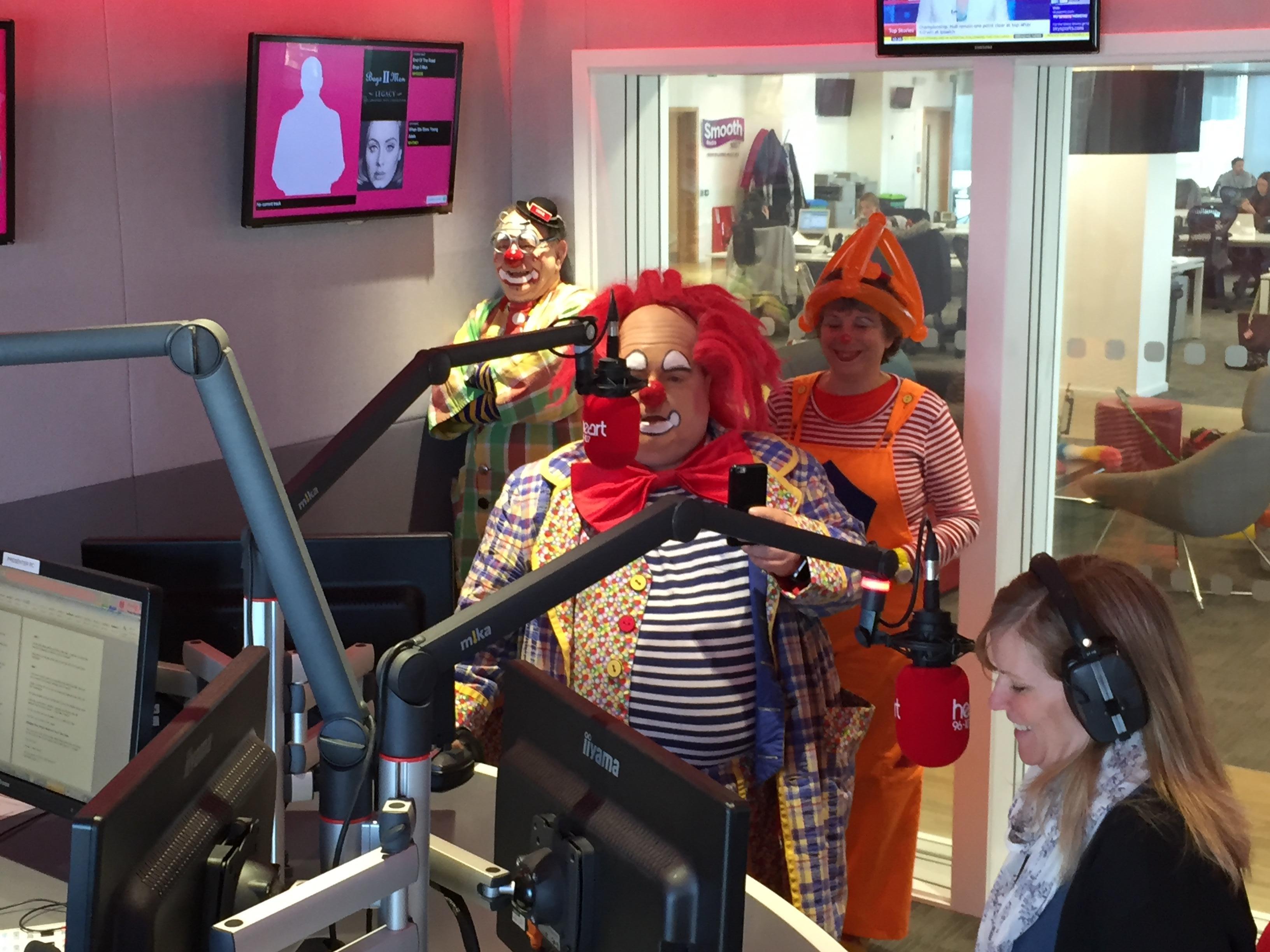 It was competition time! We spoke to all 3 clowns and told them what we had planned, we wanted to send them out onto the streets armed with custard pies, and the clown that could get the most pies pushed in their face in 1 minute would be our winning clown.
So the challenge was set, let's meet the clowns
Clown Factor Challenger 1.
Conk The Clown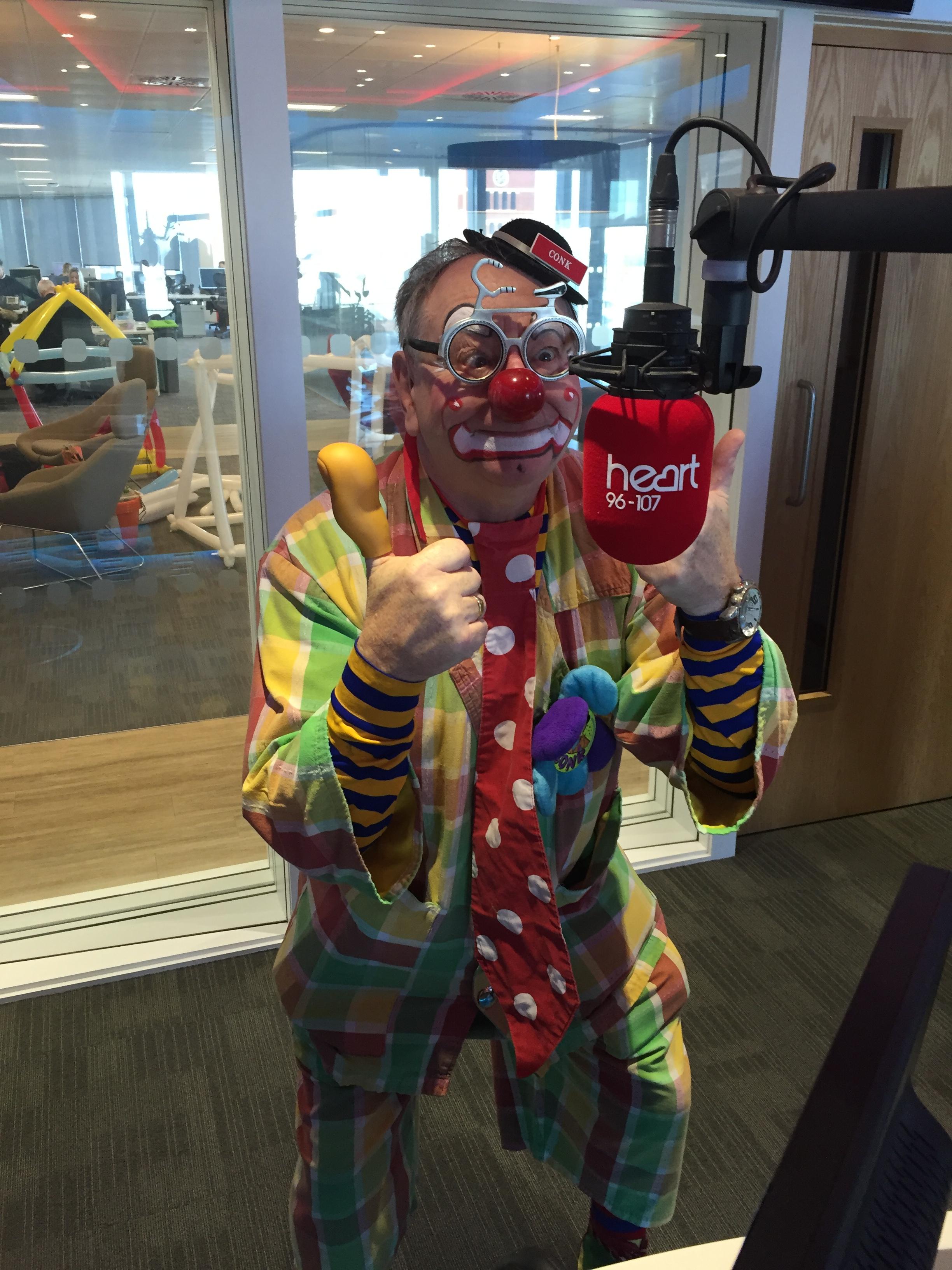 Conk is a Brummy clown that was going to use any means necessary to win Clown Factor! He even took some step ladders out with him, we're not sure how that will have helped.
Find Conk Here - facebook.com/conk.theclown
Clown Factor Challenger 2
Bibbledy Bob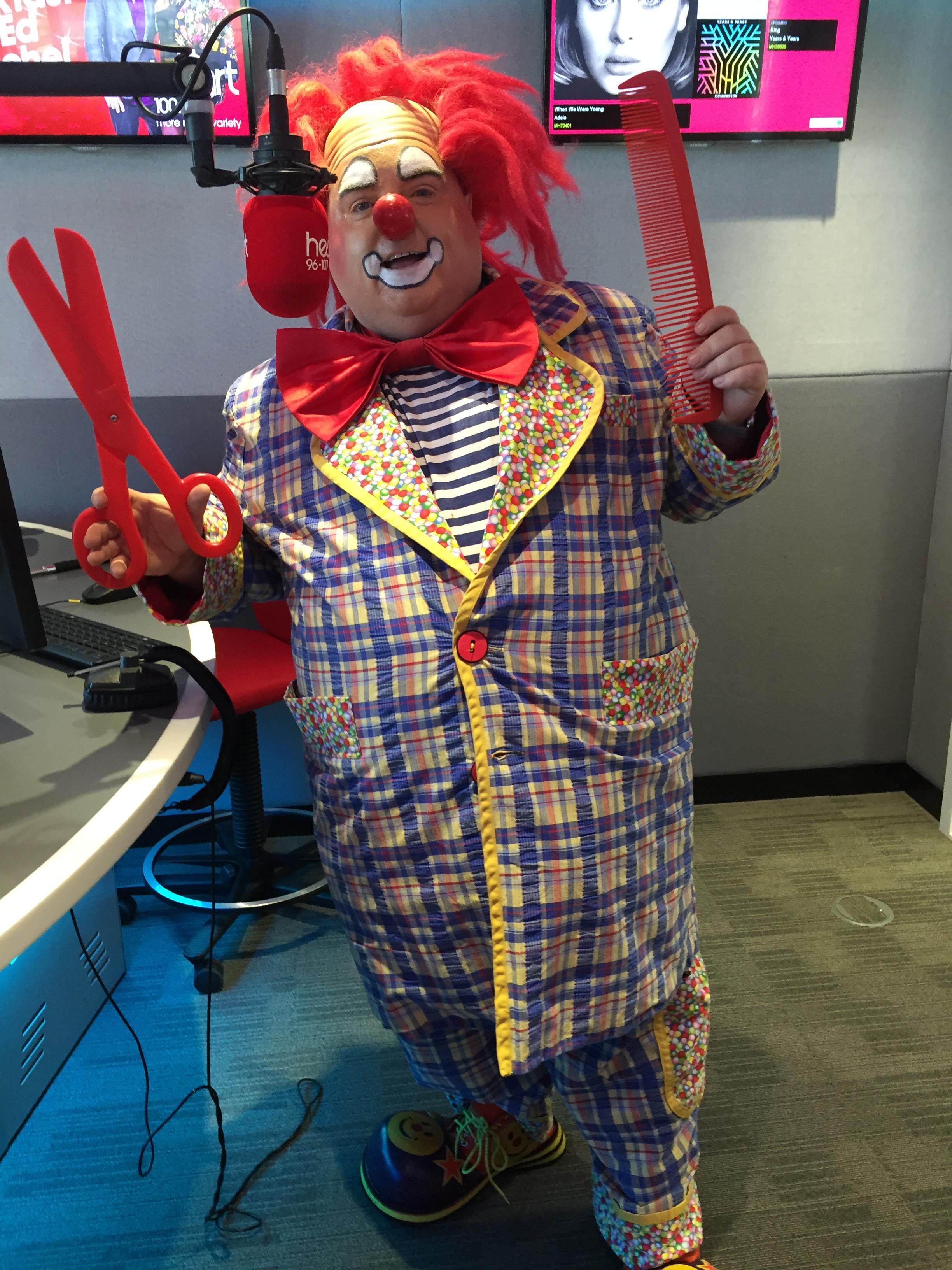 Bibbledy Bob was our loudest clown and he wanted to be riding home on his unicycle victorious, he also came with a briefcase full of amazing clown tricks and treats, but how good are his pie skills?
Find Bibbledy Bob here -
Bibbledybob - Facebook
@DJSODUE - Twitter
@Rob Bowker - Twitter
bibbledybob.com - Online
Part of Clowns International - clownsinternational.com
Clown Factor Challenger 3.
Bubblez Math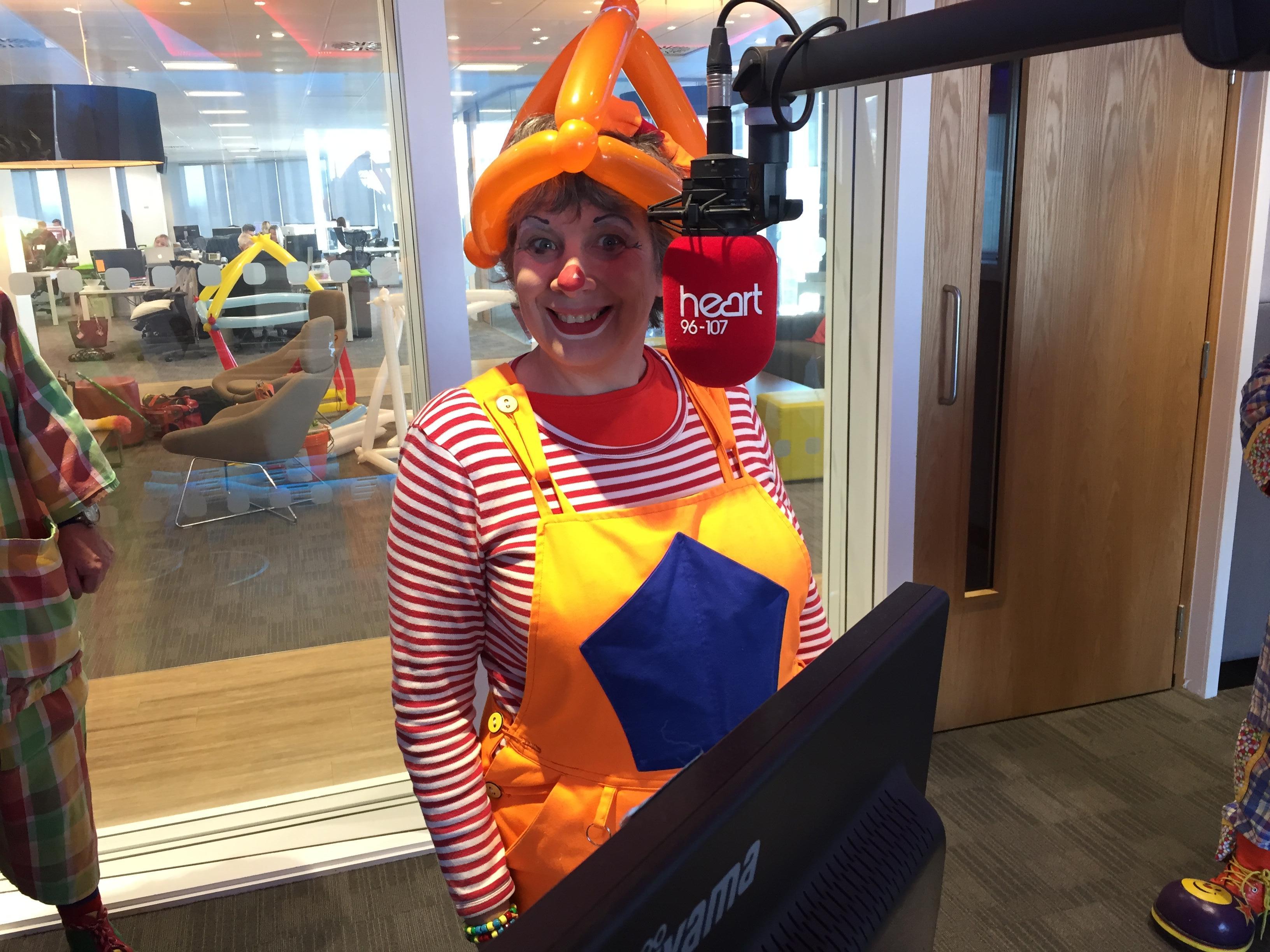 Bubblez Math came all the way from Copenhagen just for Clown Factor, that's dedication. She uses balloons to do Maths and we're going to use Balloons instead of a calculator from now!
Find Bubblez here -
@Bubblemaths
@AinsleyCaroline
Facebook – BubbleyMath
Clowns International Twitter - @ClownIntl
Time For The Results
The clowns were let loose on the public and they had exactly 1 minute to get people to push custard pies in there face, whoever got the most would be coming to Alison's Leap Day party on Monday.
Clown Factor

If you're not a fan of clowns look away NOW! We sent 3 of the world's best clowns out onto the street to see who could get the most custard pies thrown in their face in 1 minute, the winner would be coming to our Leap Day party on Monday!Ed & Rachel x

Posted by Heart West Midlands on Friday, 26 February 2016
So Bibbledy Bob was the winner, who'd of guessed?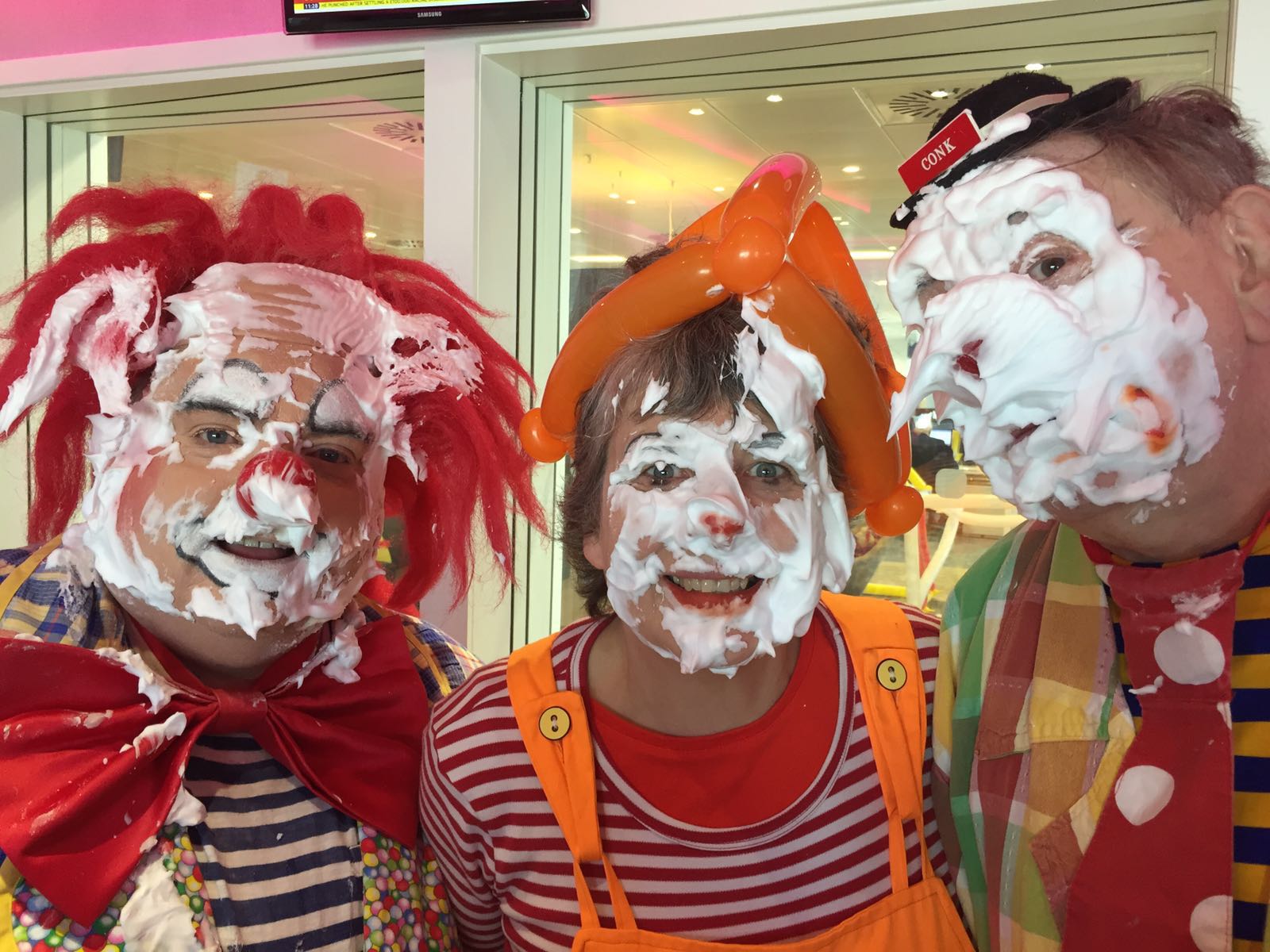 Make sure you're here first thing on Monday morning as we'll be hosting one of the best party's ever in the Heart Studio for our listener Alison. We've got so many party games planned and some of the best Entertainers from the West Midlands will be popping in to strut their stuff!