We sent SIX streets to Alton Towers!
12 July 2017, 12:27 | Updated: 25 August 2017, 19:39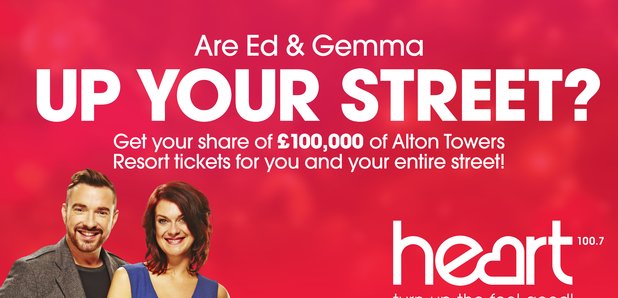 Here's what happened when Heart Breakfast's Ed & Gemma surprised random streets around the West Midlands with Alton Towers Resort tickets!
They have shared £100,000s worth of Alton Tower Resort Tickets across the West Midlands
We all loved playing Up Your Street with @altontowers so much, it'd be rude not to do it ONE MORE TIME! Monday morning from 8am! pic.twitter.com/CYAaMnTt1q

— Heart Breakfast (@HeartBreakfast) July 14, 2017
On Friday Ed & Gemma sent Elise to Dudley as it was Black Country day! They surprised the residents on Harcourt Drive!!
Earlier in the week, on Monday Elise was in Sutton Coldfield on Cherrywood Road where Debbie shouted the winning phrase 'Ed & Gemma Up My Street'.
On Tuesday, we surprised the residents of Stanbrook Road in Solihull with tickets to the resort thanks to Pat for running out of her house.
On Wednesday, Ed & Gemma sent Heart's Feel Good Weekend presenter Elise to Chatsworth Drive in Nuneaton where Redvers won the whole street tickets to the resort and on Thursday, we were in Holbourne on Grosvenor Road.
Congrats to everyone at Chatsworth Drive, #Nuneaton! You're all going to @AltonTowers Resort thanks to your awesome neighbour Redvers! pic.twitter.com/W5gqIHBt6I

— Heart Breakfast (@HeartBreakfast) July 12, 2017
One resident couldn't believe her luck...