Gary Barlow Surprises Keeley!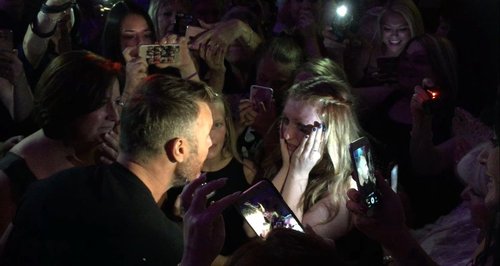 Something incredible happened in Hockley Heath on Friday evening, Gary Barlow surprised Keeley at her 13th birthday party!
On Friday evening Keeley was celebrating her 13th birthday party in Hockley Heath and little did she know it would turn into the best 13th birthday party that there has EVER been!
For the last 6 months both her and her mum, Rachel, have been tweeting Gary Barlow trying to get him to turn up at her birthday.
Then 6 weeks ago Rachel received a tweet from the man himself, saying that he would love to surprise Keeley at her birthday and they planned everything without Keeley ever finding out.
Then on Friday Keeley was dancing with her friends and then out of nowhere Gary Barlow walked through the front door, as far as 13th birthday parties go we don't think you can beat that.
After introducing himself he then performed 'Greatest Day' for all the guests before heading back to London!
Listen back to our chat with Keeley here!