Most ridiculous thing to wear make up for...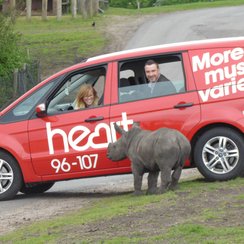 So here it is - the reason Rachel insisted on wearing makeup for!
Meeting West Midlands Safari Parks new baby rhino!
It got Ed and Rachel talking about the most random place you have worm makeup!
Jayne in Uttoxeter said she always wears it to the hairdressers so they don't judge her!
Jo wears lippy to go jogging
Katrina did the ultimate though and wore it to give birth!!!