Scare Rachel Week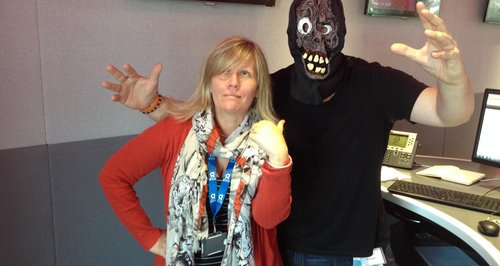 Ahead of Halloween on Saturday Ed is on a mission to scare Rachel every single day this week
Rachel is known for being impossible to scare, so every day this week Ed has set himself the challenge to try make Rachel a nervous wreck!
Monday
Day 1 and Ed came in early, (which is very rare) he brought a halloween mask and there just happened to be large cardboard box sat next to Rachel's desk in the office
Check out what happened
Rach doesn't scare easy, so every day this week, it's our goal to do just that... and it can happen any time, anywhere!Day 1: 5:30am - We GOT HER GOOD! Watch what happened... #ScareRach

Posted by Heart West Midlands on Monday, 26 October 2015
Tuesday
Day 2 and this proving to be a lot easier than Ed first thought!
After the show on Monday our boss held a meeting with us and Ed normally nips to the toilet once or twice because apparently he has a 'small bladder' (he gets bored) so when he nipped out for a second to find his halloween mask and Go-Pro he had the perfect opportunity to scare Rachel for the second time.


Did he manage it?
Scare Rachel - Day 2

It's the second day of #ScareRach and it's surprisingly easy to scare her.Day 2 - During a show meeting, Ed nips out to go to the 'toilet'..The mask is back!!

Posted by Heart West Midlands on Monday, 26 October 2015
Wednesday
Ed somehow managed to make it into work EARLY again for a change, but this time he decided to set a trap for Rachel in the car park.

The £3 mask was back on and Ed was ready with his camera to scare Rachel as she came through the barriers,

We're pulling out all the stops for Thursday and Friday though, it's going to be good!
Scare Rach - Day 3

Scare Rach - Day 3Ed was up early again (A very rare sight) and decided to set a trap for Rachel in the car parkWhat's going on with Ed's laugh?...
Thursday
We've found the best way to get Ed to come into work early, tell him to scare Rachel. He decided to 'up the anty' and he drove to Rachel's house before she left for the studios.
The mask is still in one piece and is starting to look a bit worse for wear but Ed managed to find a hole in a bush and waited outside for Rachel.

Did he manage to scare her for a 4th day in a row?
Scare Rach - Day 4

#ScareRach - Day 4We got Rachel again this morning, 100% record so far.We really stepped it up this morning and headed to Rachel's house to catch her before she left for work!

Posted by Heart West Midlands on Wednesday, 28 October 2015
Friday
The final day of Scare Rachel week ahead of Halloween on Saturday and Ed wanted to go out with a bang.

He roped in some extra staff and together we all piled into a lift on the ground level with scary halloween masks and a blow up hammer (for some reason)
Rachel arrived at work, chatted to the security guard then made her way to the lift.
#ScareRach - Day 5 - We got Rach, and it's the BEST ONE YET! Happy Halloween! Relive the week of scares here! http://www.heart.co.uk/westmids/on-air/breakfast/scare-rachel-week/

Posted by Heart West Midlands on Thursday, 29 October 2015