The Six O'Clock Lot's Christmas Party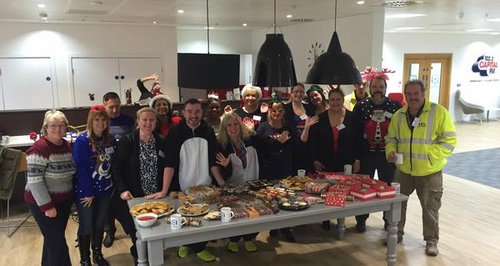 Ed and Rachel organised a special early-morning Christmas party in the Heart office for listeners in the Six O'Clock Lot. There was music, food, Twister and even a game of Pass the Parcel.
The Heart Angels laid on a feast and some classic party games for our lovely listeners, who, as you might imagine being in the 6 o'clock lot, were full of beans considering it was 6am!
The Christmas party got underway with a fun round of Twister, featuring some interesting positions... Rachel provided live commentary on Heart Breakfast!
Our Six O'Clock lot really know how to party. When Ed next caught up with them, they were living it up school-disco style with their own Conga line...
A few of the Six O'Clock Lot came across the office photocopier and couldn't resist having a play...
Sadly, all good things have to come to an end, and the same was true of the Six O'Clock Lot Christmas Party. As 7am drew near, it was time to wrap the party up and wish everyone a Merry Christmas!
A huge thanks to everyone who attended our Six O'Clock Lot Christmas Party. You can see all the photos taken by the Heart Angels in our gallery, and remember, if you're not yet a member of the Six O'Clock Lot, make sure you're listening to Ed and Rachel every weekday from 6am to get your number!