YOU raised £68,100 for the Edward's Trust
13 April 2017, 09:14 | Updated: 27 June 2017, 12:25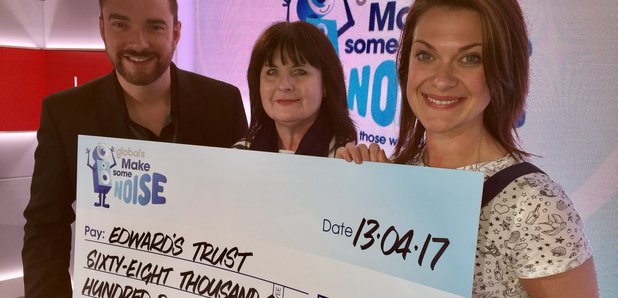 Remember when Ed did a Skydive from 10,000 feet for Globals Make Some Noise? We surprised the Edwards Trust with the cash YOU raised.
Can we start by saying, Thank You.
You helped Globals Make Some Noise raise an incredible amount of money and your generosity will change young lives across the West Midlands and the whole of the UK and it's down to YOU!
This year one of the charities Global's Make Some Noise helped was the Edwards Trust in Birmingham, they are a bereavement charity that offer counselling to help children and young people coping with the loss of a loved one.
If you donated when Ed skydived from 10,000 feet, or if you took part in the abseil off the top of the Fort Dunlop net to the M6 then we can't thank you enough!
We invited them in to receive their share of the money raised but we had 3 HUGE surprises for them…..
Watch the moment we revealed the incredible amount YOU all raised for them.
Now we want you continue to incredible fundraising for Global's Make Some Noise by signing up for 'Go Epic 2017'
There are 2 ways for you to Go Epic! You experience a thrilling skydive from 10,000 feet or you can abseil off the iconic Fort Dunlop Building that stands nearly 25 meters high – that's the equivalent of 6 Double Decker Buses piled on top of each other!