Win A Trip Of A Lifetime To The USA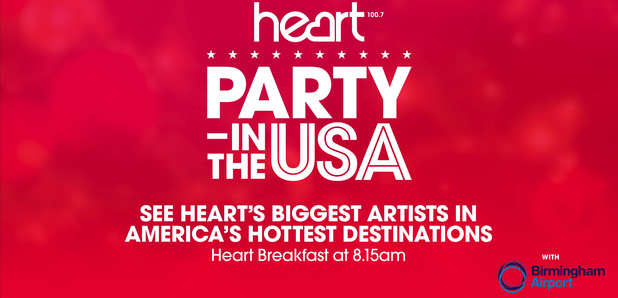 Play to win Heart's Party In The USA with Birmingham Airport to see Heart's biggest artists, in America's HOTTEST destinations!
Make sure you listen to Heart Breakfast every weekday from Friday 22nd June To Friday 13th July, because we have teamed up with Birmingham Airport to bring you fantastic trips for two people, to see a massive artist live in concert in a major USA city destination - all with return flights and accommodation!
Want to win? Just make sure you're listening to Heart Breakfast with Ed and Gemma every weekday morning at 8.15am.
If you're a winner, you could be jetting off from
Birmingham Airport to see one these...
♦ Bruno Mars in Boston Massachusetts on 27th September 2018

♦ Justin Timberlake in San Francisco on 5th December 2018
♦ Ed Sheeran in Chicago on 4th October 2018
♦ Bruno Mars in Los Angeles on the 24th of October 2018
♦ Pink in New York on 21st May 2019
See competition terms and conditions here

You can fly from Birmingham Airport to explore the bright lights of the Big Apple, the big surf of California, and receive the biggest welcome in Chicago - America's friendliest city. There are lots of different airlines offering fast connections to the USA from Birmingham.
With connections to Boston, Chicago, Los Angeles, New York and San Francisco. Fly via Paris with Air France, via Amsterdam with KLM, via Madrid with Iberia and via Dublin with Aer Lingus in Dublin. You can also pre-clear US Immigration in Dublin, meaning no queuing when you get to the States!