Vandals target one of the oldest monuments in Wales
8 October 2018, 16:16 | Updated: 8 October 2018, 16:40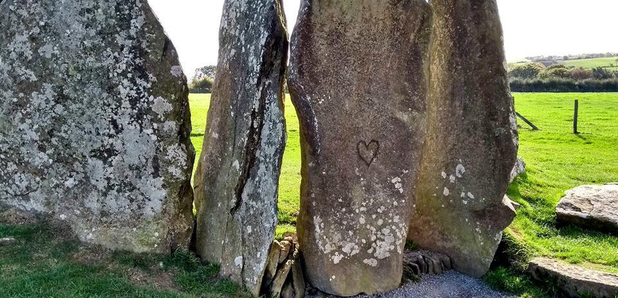 Police are investigating vandalism to one of the oldest monuments in Wales.
Graffiti, including a love heart, has been painted on the stones at Pentre Ifan in Pembrokeshire.
The ancient burial chamber is believed to be 5,500 years old and is a protected monument.
Officers say they are now carrying out more patrols to stop further damage in the area.
PC Esther Davies from the Dyfed-Powys Police rural crime team, said: "This is one of the most famous prehistoric sites in Wales, and it is unacceptable that someone has done this.
"Not only have they damaged the monument, but they have caused significant damage to the lichens growing on the stones.
"Cadw are working closely with us, and will be dealing with the removal of the paint.
"We would urge anyone who has information about the culprit to contact the Rural Crime team by calling 101."