6 reasons why Swansea should be City of Culture 2021
15 July 2017, 10:34 | Updated: 7 December 2017, 13:40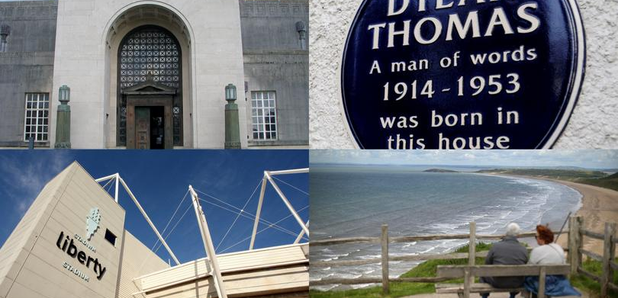 Swansea has been shortlisted for the City of Culture title in 2021.
It's the second time the city has been nominated after narrowly losing out to Hull, in the selection process for the 2017 title.
But this time around, the organiser's behind Swansea's bid say there are some very credible reasons why Swansea could win.
Swansea has great cultural venues
Swansea has several theatres and concert venues including the Grand Theatre, the Dylan Thomas Theatre, the Taliesin Arts Centre and Brangwyn Hall.
The Liberty Stadium has also played host to global superstars like Take That.
Plus, there's the Swansea Museum - the oldest museum in Wales. There's also the National Waterfront Museum, the Mission Gallery, the Glynn Vivian Art Gallery, and even the Egypt Centre at Swansea University.
Swansea is beautiful
Swansea Bay has an amazing coastline, with some of the most beautiful beaches in the world. The Gower coastline was the first part of the UK to be designated an Area of Outstanding Natural Beauty.
Swansea's also home to Rhossili Bay, which was once voted the UK's best beach.
Swansea's most famous son
Welsh poet Dylan Thomas's legacy still lives on in Swansea with the Dylan Thomas Centre. His famous boathouse isn't far away in neighbouring Carmarthenshire. The international Dylan Thomas literary prize is also awarded in Swansea.
Swansea's got two universities
Swansea has two universities, with both Swansea University, and University of Wales Trinity Saint David located in the city.
Swansea's got a wealth of Welsh culture
As St Davids bid didn't make it, Swansea is the only Welsh city that's ever been shortlisted as a potential City of Culture.
Swansea Council's Director of Cultural Services, Tracey McNulty, told Heart: "Swansea's bid is the Wales bid.
"The Welsh language and Welsh culture make Swansea's bid unique and we're keen to promote bilingual festivals."
Swansea's got a sporting chance
As well as having a Premier League football team playing at the Liberty Stadium, Swansea is also home to the Ospreys, who are the most successful Welsh side in the Pro12.
The city is also home to the Wales National Pool, which has been used by both Olympic and Paralympic winners.
Swansea's even got a Norwegian church and a rainforest!
It's not just Cardiff that boasts a Norwegian church! Swansea's got one too.
Plus, there's a rainforest right in the middle of the city inside Plantasia on Parc Tawe.