£270m Swindon Leisure Centre Gets Go Ahead
28 November 2018, 10:27 | Updated: 28 November 2018, 10:29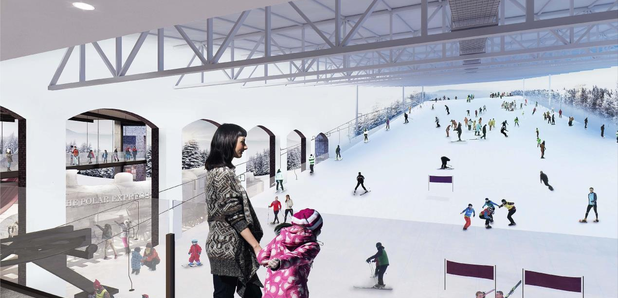 A huge £270m leisure centre is going to be built in Swindon.
The North Star Village was given planning permission at a council meeting last night.
It will have one of the biggest ski and snow centres in the UK, with two indoor ski slopes, a 13-screen cinema with the biggest IMAX screen in Europe, a bowling alley and trampolining, as well as shops, cafes and restaurants.
Developers SevenCapital believe it will attract around 3.3 million people a year once it is built, bringing in visitors from as far as Stoke-on-Trent, Swansea, Exeter, Brighton and Cambridge.
The firm has already got an agreement in place with a major funder and has confirmed The Snow Centre, Empire Cinemas and Hollywood Bowl are all on board.
Councillor Dale Heenan, Cabinet Member for Swindon Town Centre, said: "This ski facility has been a vision for Swindon for over six years, but we've now passed the final gate and are closing in on the finish line. There has been a tremendous amount of work going on behind the scenes and we are now in a strong position to move forward. Last week, SevenCapital announced it had secured the money needed to build the North Star leisure complex and the Planning Committee was the final hurdle. This development will put Swindon firmly on the map of top leisure destinations and is a shining example of the ambition we have to make the town a great place to live, work and play. Every resident will be praying that Seven Capital start construction as soon as possible because the pressure is now really on to deliver visible progress."
John Watkins, Director at SevenCapital, said: "We're thrilled with the decision to grant full planning approval for the North Star Village. Since taking on the project in July 2017, the team has worked tirelessly to deliver on our promises to submit plans for an exciting regional leisure and retail destination that Swindon and the wider UK will significantly benefit from. We have delivered on all our planning promises and are now looking forward to getting on site and bringing those plans to life."
Work is expected to start on site, next to the Oasis Leisure Centre, in the spring.
For more information on North Star Village click
HERE
.