Angus Macpherson Wins 2nd Term As P&CC For Wiltshire & Swindon
6 May 2016, 13:26 | Updated: 6 May 2016, 13:36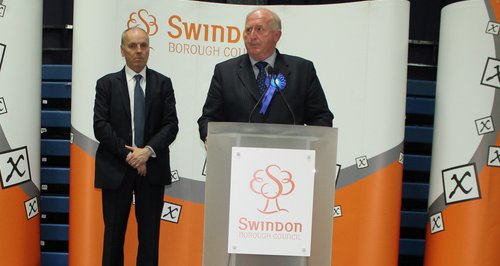 Angus Macpherson has won a second term as Police and Crime Commissioner for Wiltshire and Swindon.
The result was declared shortly after 4.45am today (Friday 6 May 2016) at The Oasis Leisure Centre in Swindon where the votes of the four contenders were announced.
Mr Macpherson, who stood as the Conservative candidate, polled 56,605 votes in the first round, which represented 45 per cent of the vote. His closest contender, Kevin Small (Labour), received 28,166 in the first round (22 per cent of the vote). When voters' second preference votes were taken into account, Mr Macpherson gained an extra 12,017 votes, giving him a final total of 68,622 votes. Mr Small picked up 11,199 second preference votes to finish with 39,365 votes in total. The Liberal Democrat candidate, Brian Mathew, polled 19,294 first round votes and the UKIP candidate John Short received 18,434 first round votes.

The turnout was 126,195 representing 24.7 per cent of registered electors. This is a rise of ten per cent over last time.
Volunteer Police Cadets from north and west Swindon were at the Oasis to quickly transfer ballot boxes from council vans to the hall where the counters were waiting. In 2012 and again in 2016, Wiltshire and Swindon was the first PCC result to be announced across the country.
Mr Macpherson, who was first elected in November 2012, will serve a four-year term. He will officially start his new term of office on Thursday 12 May 2016. He said:
"I am delighted to have carried a majority vote in both Swindon and Wiltshire. My role is to ensure that Wiltshire and Swindon are well policed.. This vote is a vote of confidence in local policing. That is not to say everything is perfect. In my second term I will be focusing on the issues raised by the public during the campaign. We can do more for our communities and my job for the next four years is to make sure that we do. I am very pleased that the turnout has risen to almost 25 per cent. It is a significant increase on the turnout of around 15 per cent in 2012. It is clear that the elections to Swindon Borough Council had a positive impact on the election for Commissioner. In an ideal world, future elections for Commissioners would always take place alongside local council elections. Whilst the turnout has shown an encouraging increase, I intend raising the profile of the Commissioner role. People still do not realise the scope and responsibility. If they did, I suspect the turnout would be double what it is."

Chief Constable Mike Veale said:
"Mr Macpherson has always impressed me with his passion for the Force and his public-spirited commitment to local communities. We have developed a good working relationship based on mutual respect and I look forward to continuing to build on that relationship. The Force has an excellent reputation for delivering a high quality of service to the communities of Wiltshire and Swindon and the PCC makes sure that this is the case. He sets the priorities for policing in his Police and Crime Plan. I look forward to working with Mr Macpherson in his second term in office to deliver them."

After the result was declared, Mr Macpherson swore an oath of office which was witnessed by John Gilbert, Chief Executive of Swindon Borough Council. Here is the oath in full:

"I, Angus Stuart Macpherson, do hereby declare that I accept the office of Police and Crime Commissioner for the Wiltshire Police area.

In making this declaration, I solemnly and sincerely promise that during my term of office:

I will serve all the people of Wiltshire in the office of Police and Crime Commissioner.

I will act with integrity and diligence in my role and, to the best of my ability, will execute the duties of my office to ensure that the police are able to cut crime and protect the public.

I will give a voice to the public, especially victims of crime, and work with other services to ensure the safety of the community and effective criminal justice.

I will take all steps within my power to ensure transparency of my decisions, so that I may be properly held to account by the public.

I will not interfere with the operational independence of police officers."