Ask for Angela if you're worried on a night out
30 September 2018, 07:28 | Updated: 30 September 2018, 07:31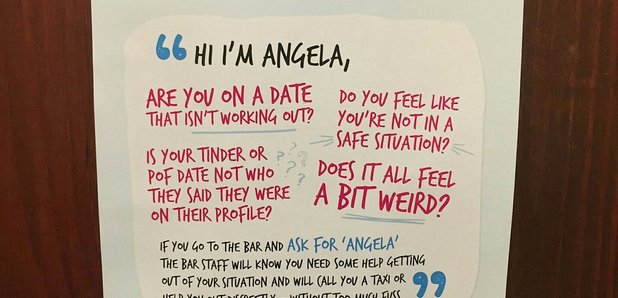 Wiltshire Police are telling people to use three words if they are feeling unsafe or vulnerable in a pub or club.
By 'asking for Angela', they will be alerting staff that they require help. They will be taken aside, or to a safer location, so they can speak in confidence to that staff member about what assistance they need.
Options available to staff include: offering to call a taxi for the individual; contacting their friends or family; or requesting that an individual causing the distress leaves the venue.
Sgt Stephen McGlynn, Licensing Lead for Wiltshire Police said: ''We want people to feel safe and enjoy their time across Swindon and Wiltshire's pubs and bars however; there are times when an individual can be made to feel uneasy and not quite know how to remove themselves from a potential harmful situation.
''Popularity of dating apps means more people might find themselves in difficult situations. The Ask for Angela campaign aims to make people feel safer in these situations.
''Our licensing teams, alongside both Swindon and Wiltshire council are working with licensees to promote the scheme and will offer guidance to staff on how to manage these situations when they arise.''
The initiative has also been supported by Angus Macpherson, Police and Crime Commissioner for Wiltshire and Swindon. ''Anyone who finds themselves in a precarious or uncomfortable position in a pub or club in Wiltshire needs to be safe in the knowledge that there is help at hand.
''I would encourage people to spread the word and make sure their family and friends are aware.
''This is an excellent example of how partnership working, between Wiltshire Police, Wiltshire Council, Swindon Borough Council and participating venues can make a difference within our communities and keep people safe.''
Officers from Wiltshire Police Licensing teams will be delivering the posters advertising the service to venues across the county.
They will be placed in the toilets of those establishments, so as to be discreet.