Ban On Drinking In Parts Of Trowbridge
23 January 2017, 15:24 | Updated: 23 January 2017, 15:28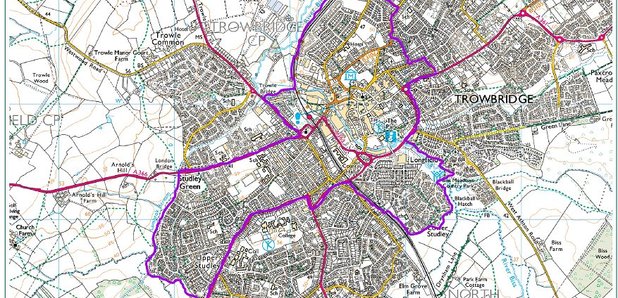 A ban on drinking alcohol in parts of Trowbridge has come into force.
A Public Spaces Protection Order (PSPO) has been brought in, meaning anyone caught drinking within the area will face prosecution and a fine of up to £1,000.
The PSPO has come about following a high number of calls to police from members of the public over the summer months relating to anti-social drinking in the town centre.
In conjunction with Wiltshire Council and Trowbridge Town Council, action was taken against those people causing issues through the use of dispersal orders and the Designated Public Protection Order. But the feedback from the local community suggested a total ban on drinking alcohol in the town was needed.
Inspector James Brain said: ''The local community has spoken and we have listened to their feedback. The implementation of the Public Space Protection Order is a real success story for us. It means that we will have a complete ban on drinking within the designated area. This has come about as a result of close partnership working with Wiltshire Council and the town council. We made the promise to the local Trowbridge community that we would tackle, head on, the problem of anti-social drinking in our town, and we have kept to our promise.
''Over the summer months, my officers were called 91 times regarding anti-social drinkers drinkers and following an operation by the Trowbridge Community Policing Team, who carried out increased patrols, action was taken against anyone causing issues through the use of disposal orders and the Designated Public Protection Order which enabled officers to deal with the issue by making it an offence to continue drinking when asked to stop by police. On top of this, officers also engaged with local shops and members of the public. A Criminal Behaviour Order was issued to repeat offender Kenneth Beavis, who was later issued with a prison sentence after he breached the order.
''We recognise that street drinking and the anti-social behaviour that is often associated with it has caused problems within our town and can often lead to members of our community feeling intimidated and fearful. This is completely unacceptable, and this is why we are taking a robust approach. As well as this, we also recognise that some of the people who engage in this behaviour are in need of support and alongside our partners, we will ensure that they receive the help they require.
''I would like to thank my officers and our partners for their determination and dedication to tackling this issue – their hard work has enabled us to reach today's implementation of the PSPO – the first of its kind within Wiltshire, outside of Swindon.''
Jerry Wickham, Wiltshire Council cabinet member for public health and public protection, said: ''We have listened to local people who have concerns about the antisocial behaviour associated with public drinking and worked with Wiltshire Police to put in place a Public Space Protection Order. It means a total ban on drinking in public places in the town, something people told us they are keen to see.
''We want to support people to drink safely as, alongside the antisocial element, it damages people's health, and is a contributing factor for a number of conditions.
''This has a huge knock-on effect for health services can be prevented by people drinking responsibly.
''This order supports our work to promote alcohol awareness through our alcohol strategy, which sets out the strategic priorities for local partners and identifies how it will tackle alcohol-related harm.''
To report anyone drinking alcohol in public places within the designated area all 101.