British Army Welcomes First American General Into Its Ranks
2 September 2015, 17:04 | Updated: 2 September 2015, 17:20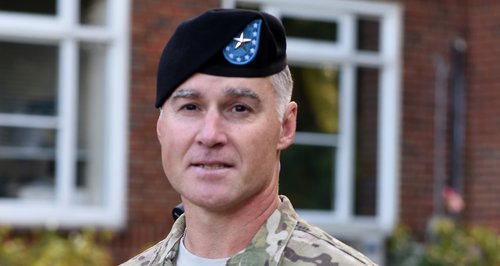 A senior US Army officer has spoken of his pride at being the first American general to serve within a British Army division.
Brigadier General Mike Tarsa joins 3rd (UK) Division to become the formation's first American Deputy Commander. The brand new post has been established as part of a plan to tighten relations between the British and US militaries.
Addressing the staff during a welcome ceremony at the Division's Headquarters in Bulford Camp, Wiltshire, Tarsa said:
"This is a distinct honour and I couldn't be more delighted to be stood here abrest with you. I wear my nation's uniform as a member of the US Army, but I now have the privilege to be part of the British Army and 3rd United Kingdom Division. I hope to serve both with great distinction and I'm proud to be stood here in your ranks."
Brigadier General Tarsa is a highly-decorated artillery officer, having served on multiple tours of Iraq. He has held a number of senior appointments within the US military, most recently as the Acting Senior Commander of 4th Infantry Division and Fort Carson, Colorado for which he was awarded the prestigious Legion of Merit.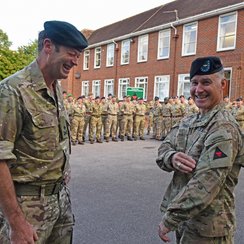 The General Officer Commanding 3rd (UK) Division, Major General Patrick Sanders, told the assembled troops:
"We're enormously privileged to welcome Mike to 3rd Division – the first deputy commander of any British Division, and our first American deputy commander."
And he offered some practical advice to his new American colleague, adding:
"We may use cricket analogies to explain ourselves, one hundred miles is a long way to us, banter is a sign of affection not disrespect, and don't worry if you can't always understand our regional accents."
3rd (UK) Division has a rich heritage as the oldest fighting division in the British Army, earning its nickname 'The Iron Division' in the trenches of the Western Front during the First World War; The 3rd Division held the centre of the allied line during the Battle of Waterloo, and was the first division ashore at Normandy on D-Day. Today it commands the more than 16,000 troops forming the British Army's high-readiness 'Reaction Force' from its HQ on Salisbury Plain.
(Images: Richard Watt / MoD)