Cheney Manor Back Open To Traffic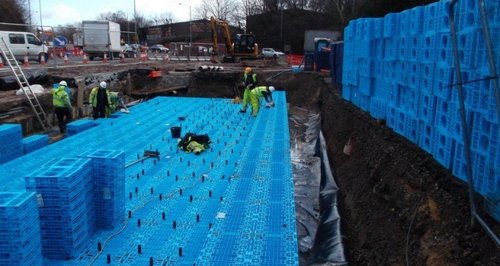 Cheney Manor Industrial Estate will open to through traffic in time for the busy Easter period following the completion of essential flood mitigation works.
The southern part of the industrial estate has only been open for business access between Baileys Corner and Darby Close to allow contractors to increase the size of existing storm sewers.
But now that work has been completed, traffic will be able to flow through the industrial estate as normal.
The next phase of the flood mitigation works will take place along Cheney Manor Road and these will start on Monday (30 March), lasting for approximately six weeks. During the works, Cheney Manor Road will be open to southbound traffic only and northbound traffic will be directed through the industrial estate. Access for residents in Cheney Manor Road will be maintained at all times.
In addition, motorists are being warned to expect further delays at Bruce Street Bridges due to essential flood mitigation work at one part of the busy junction.
To allow the contractors to work safely it has been necessary to reduce the West Bridge section of the roundabout to one lane to allow for crucial drainage works to be completed.
Drivers travelling westbound are advised to seek alternative routes or allow extra time for their journeys. The work is expected to last until Easter.
The Bruce Street works started last September and are part of the overall Great Western Way Highway Improvement Scheme. It aims to reduce queuing and improve the flow of traffic at four major junctions – the Bruce Street Bridges junction, the Cockleberry roundabout, the North Star roundabout and the Transfer Bridges junction.
The current work will see the replacement of the four mini-roundabouts at the Bruce Street Bridges junction in Cheney Manor with a more efficient single roundabout, and the introduction of a traffic signal-controlled junction at Newcome Drive to improve access into the Hawksworth Industrial Estate from Great Western Way. In addition significant flood mitigation works are also being carried out at the same time to minimise future disruption and to protect more than 100 residential and commercial properties from potential flood damage.
In November, work began to install extra drainage pipes in nine roads and streets across Cheney Manor to reduce the risk of flooding, which the area has regularly suffered from in periods of heavy rain.
The final designs for the work were developed after extensive public consultations with residents, businesses and councillors. The £8m scheme will be funded by contributions secured by Swindon Borough Council from housing developers, along with money from the Department for Transport and the Environment Agency.