Child Weight Management Programme Rolled Out Across Wiltshire
6 January 2015, 16:26 | Updated: 6 January 2015, 16:37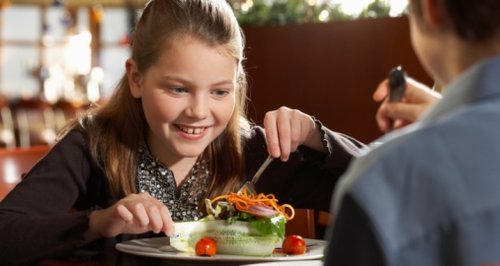 A 10 week weight management programme is being rolled out to four new areas following its success, giving more Wiltshire families the chance to benefit.
The SHINE Wiltshire child weight management programme is for children aged seven to 11 years above their healthy weight. Additional programmes are being rolled out across the county, and anyone who is interested in making changes which can lead to a healthier lifestyle, can at the following courses:

Monkton Park Primary School, Chippenham on Tuesdays from 13 January to 24 March.
Oasis Academy Longmeadow, Trowbridge on Wednesdays from 14 January to 25 March.
Clarendon Junior School, Tidworth on Wednesdays from 14 January to 25 March.
Manor Fields Primary School, Salisbury on Thursdays from 15 January to 26 March.
Children who completed the pilot SHINE Wiltshire programme, which was launched in September 2014, gave it the thumbs up, and celebrated at a special event in Melksham last month. After weekly, two hour sessions at a local school, the children celebrated their achievements at Boomerang in Melksham. They received their certificates for completing the programme, and let off some steam by playing Lazer Storm. Maggie Rae, corporate director, said:
"I am delighted the course has been so successful and pleased it is being extended to other areas. I would also like to congratulate everyone who took part in and completed the first ever SHINE programme in Wiltshire. This is a real achievement."

Keith Humphries, cabinet member responsible for public health, said:
"Here in Wiltshire, our leisure, education and health services are working closely together to give children the best chances in life. We are offering SHINE as an opportunity to families who would welcome some support in achieving a healthy weight and healthy lifestyle for their child aged seven to 11. This programme has the potential to make a big difference in young people's health and consequently their entire lives."

Victoria Richardson, the SHINE Wiltshire coordinator, said:
"The children have worked so hard and it's great to see them all still here in week 12 celebrating their successes together. They've bonded so well and have made such brilliant progress."

The programme has been well received, with the seven registered children losing a culmination of 23cm from their waists and 19cm from their hips. The families now have access to 12 months of further support from the SHINE team through a weekly maintenance programme where families can drop in for support and exercise together.

Comments from children attending the SHINE programme included:

"I've really enjoyed coming to SHINE as I've made new friends and had fun."
"I thought the coke experiment and seeing how much hidden sugar was in coke was really fun."
"Me and Mum have learnt how to read food labels and I can understand them!"
"The Taekwondo session was really good and I want to join a club."

A Mum said: "I'd recommend this to any family considering a change. We've received great support from SHINE and it's helped me understand what we can all do as a family to be healthier."

The Summer programme dates will be released in the next few weeks.

For more information or to register, contact the SHINE team at SHINE@wiltshire.gov.uk or Victoria Richardson on 01225 716674.

To download a leaflet or for more information please visit www.activewiltshire.org.uk.
People can check whether they, or anyone in their family, are within the healthy weight range by visiting www.nhs.uk/bmi.