Crashed cars warn drivers about drink driving
4 December 2018, 15:52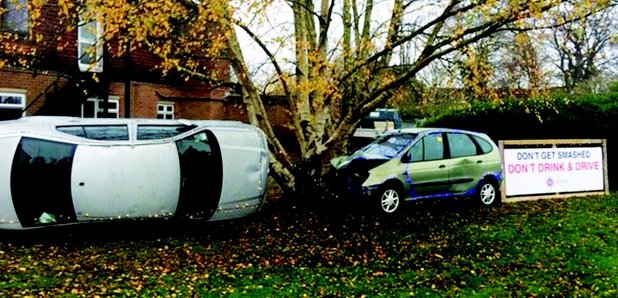 Firefighters at Stratton fire station are supporting the Christmas drink and drug driving campaign with a dramatic visual display.
Two crashed cars have been placed at the fire station in Highworth Road to look as though they have been in a collision, along with a banner that reads: "Don't get smashed - don't drink and drive".
Watch Manager Mark Evans said: "The fire station sits on one of the major trunk roads in and out of Swindon, so Stratton Green Watch have constructed this crash display to remind drivers during the festive period of the consequences of drink driving. We hope that it will capture the thoughts of people who may be tempted to drive with alcohol in their systems, not only in the evening but also on the morning after. Dorset & Wiltshire Fire and Rescue Service has had to deal with far too many horrific road traffic collisions, and we are urging people to really think about their actions over the Christmas period.
"The impact of a collision not only affects those driving, but can have a lasting effect on families, whether by a death or injury to a loved one or a prison sentence for anyone who has behaved irresponsibly and broken the law. All we ask is that you have a safe festive period, by taking responsible steps to ensure that you get home safe and sound following your celebrations."
Over 200 deaths a year are caused by drink driving, accounting for around 14% of all fatal collisions.
The consequences of being caught drink or drug-driving can include a minimum 12 month driving ban, a large fine, a criminal record and can have serious implications for insurance premiums. It can also have a huge impact on personal lifestyle, with people losing their jobs and suffering relationship breakdowns.
The legal limit is 35 micrograms of alcohol per 100 mililitres of breath. However, it's not possible to say how much alcohol you can drink and stay below the limit. The way alcohol affects you depends on multiple factors, including: your weight, age, sex and metabolism, the type and amount of alcohol you're drinking what you've eaten recently your stress levels at the time.