Wiltshire: More Support For Crime Victims
24 March 2015, 17:29 | Updated: 24 March 2015, 17:35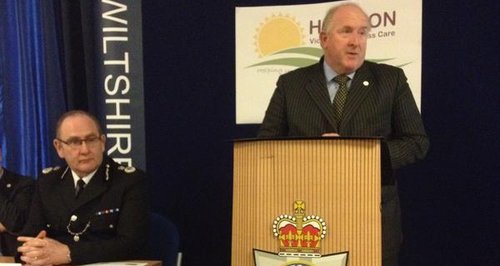 A new scheme has been launched to improve the support given to victims of crime in Wiltshire.
Horizon Victim and Witness Care aims to ensure victims get the right support from their first contact with Police through to the end of the criminal justice process.
Chief Constable Pat Geenty said: ''The launch of Horizon Victim and Witness Care further underpins our commitment to placing victims and witnesses at the very heart of the criminal justice process, a key priority within the Commissioner's Police and Crime Plan.
''This is a crucial step forwards and this team of specially-trained staff will deliver a vitally important service for victims and witnesses of crime.''
Police and Crime Commissioner for Wiltshire and Swindon, Angus Macpherson, said: ''When I decided to stand for election, I was determined that one of the most important things I wanted to achieve during my time in office would be to put the victims of crime centre stage, rather than waiting nervously in the wings for justice to be done.
''The creation of Horizon, with new members of staff being recruited, is a significant investment made at a time when we have already made savings in many areas and need to make additional savings over the next three years. This investment demonstrates our commitment to victims.''
Michelle Nott, Horizon manager, said: ''I am really excited to be managing Horizon with its 13 victim and witness care officers. The focus now, more than ever, is on putting our victims' and witnesses' needs first to help them to cope and recover from being a victim of crime.
''The criminal justice process can be a daunting experience and cases often collapse or do not get to court because victims and witnesses are unwilling to give evidence.
''By offering a greater level of support and keeping the person concerned informed, ultimately the team will encourage attendance at court and assist people through the criminal justice system.
''The new team, which is based at Force headquarters, has completed an intensive four week training programme with courses such as basic law, effective conversations and more. In addition presentations have been delivered by various guests, who are really keen to share and talk about their services and how they link with Horizon. Staff have also visited local courts and met Judge Timothy Mousley QC.''
Find out more here