Dinosaurs Invading Longleat - VIDEO
14 May 2015, 12:53 | Updated: 14 May 2015, 13:29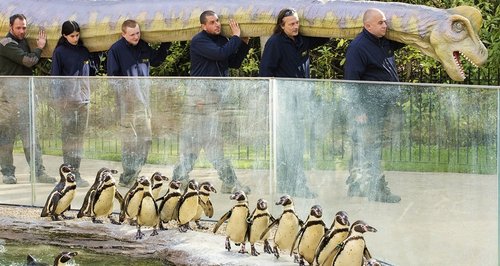 Longleat is set to be overrun by a pack of giant animatronic dinosaurs as part of a major new exhibition which opens later this month.
'Dinosaurs Alive: A Prehistoric Adventure' features dozens of awesome ancient beasts.

A team of staff at the Wiltshire attraction have been hard at work over the past two months preparing the site for the new arrivals and carefully manoeuvring them in to position.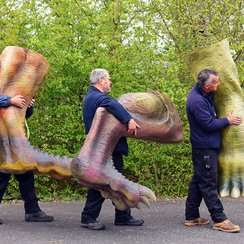 Visitors will be able to walk among the massive moving prehistoric beasts, which include a 15-metre-long brachiosaurus and an eight-metre-long tyrannosaurus rex – the king of the dinosaurs.

Other extinct species making an unexpected comeback will be stegosaurus, triceratops and megalosaurus.
The new attraction will provide younger explorers with the opportunity to test out their paleontology skills in a dinosaur discovery zone and there will be resident dinosaur experts on site to paint a picture of the prehistoric world. There will be daily reptile encounters with some 'living dinosaurs' who have remained remarkably unchanged for millions of years.

A pair of free-roaming dinosaurs have also been released around the estate and visitors are being advised to keep an eye out for some unexpected dinosaur encounters.
The new exhibition opens at Longleat on Friday, May 22nd.