Former Russian Spy Discharged From Hospital
18 May 2018, 17:42 | Updated: 18 May 2018, 17:53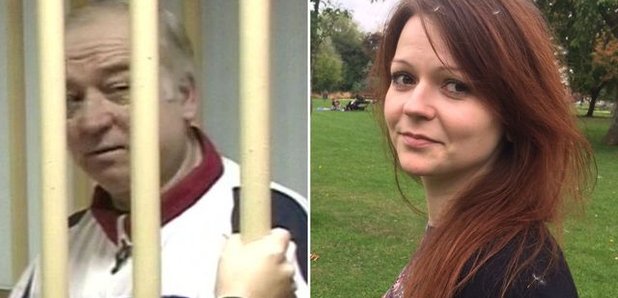 Former Russian spy Sergei Skripal has been discharged from hospital more than two months after being exposed to a nerve agent along with his daughter.
Mr Skripal, 66, and his daughter, Yulia Skripal, 33, were admitted to Salisbury District Hospital after coming into contact with the military-grade nerve agent novichok.

The pair were left fighting for their lives after being found unconscious on a park bench in Salisbury, Wiltshire, on March 4.

Detective Sergeant Nick Bailey, of Wiltshire Police, was also admitted to Salisbury District Hospital after being exposed to the nerve agent.

In a statement on Friday morning, the hospital said all three patients had now been released. DS Bailey went home on March 22, while Ms Skripal was discharged on April 10. A hospital spokesman said:
"While these patients have now been discharged, their right to patient confidentiality remains and limits us from giving detailed accounts of the treatment these individuals received. However, treating people who are so acutely unwell, having been poisoned by nerve agents, requires stabilising them, keeping them alive until their bodies could produce more enzymes to replace those that had been poisoned."

A small amount of novichok is thought to have been used in liquid form to target former Russian agent Mr Skripal and his daughter.

The attack in March sparked a wave of diplomatic expulsions by Britain and its allies, and retaliatory ones by Russia. Moscow has repeatedly denied responsibility for the attack.

Hospital chief executive Cara Charles-Barks described Mr Skripal's discharge as "fantastic news".

"That he, Yulia and DS Bailey have been able to leave us so soon after coming into contact with this nerve agent is thanks to the hard work, skill and professionalism of our clinicians, who provide outstanding care to all our patients, day in and day out," she said.

"This has been a difficult time for those caught up in this incident - the patients, our staff and the people of Salisbury. I want to thank the public for their support, and I want to pay a special tribute to both the clinical staff here at the trust and those who work so hard behind the scenes. They've demonstrated the very best of the NHS."

Lorna Wilkinson, director of nursing at the hospital, said Mr Skripal's discharge was "an important stage in his recovery".

"Treating him and the other two people poisoned by this nerve agent, while still providing outstanding care to the other patients who rely on our hospital, has been a huge and unprecedented challenge that I'm proud our staff at Salisbury Hospital have risen to," she said.

Professor Steve Powis, medical director of NHS England, said: "I would like to thank the nurses, doctors, and all the other staff whose skills, compassion and dedication have saved the lives of Yulia and Sergei Skripal and Detective Sergeant Nick Bailey."

Prof Powis described their "remarkable recovery" as a reminder of the "world-class treatment and care" available at local hospitals around the country.
A Scotland Yard statement said:
"Detectives from the UK's Counter Terrorism Policing network continue to investigate the attempted murders of Sergei and Yulia Skripal in Salisbury in March this year. They are both making good progress and we are pleased that Mr Skripal has now also been released from hospital, which was announced by the NHS earlier this morning. This is a complex investigation and detectives continue to gather and piece together all the evidence to establish the full facts and circumstances behind this dreadful attack. In the interests of Sergei and Yulia's safety, we will not be discussing any protective or security arrangements that are in place."

Russia's ambassador to the UK has stepped up demands to be allowed to see Sergei Skripal and his daughter Yulia, suggesting the pair may be being detained by the British state.

Alexander Yakovenko said the pair were "isolated", adding: "You can call it kidnap."

He welcomed the announcement that former spy Mr Skripal had been discharged from hospital after the attack, which the UK authorities have blamed on a military-grade Novichok nerve agent. Mr Yakovenko has claimed the UK is violating international law by not granting access to the Skripals. The 1963 Vienna Convention gives consular officials access rights if one of their nationals is in prison, custody or detention. Setting out Moscow's interpretation of the case, he said:
"We are saying that they are isolated because we don't have access to them. This is our interpretation. You can call it detained, you can call it isolated, you can call it kidnap. Unless we see them it is difficult to make a conclusion."

He acknowledged that the Foreign Office had told him they did not interpret the situation in the same way and added, "I got the impression that we will never see them".

Russia has denied involvement in the incident in Salisbury which left both Mr Skripal and his daughter seriously ill. Mr Yakovenko said: "If it was really Novichok and they were poisoned by Novichok, the consequences would be very serious. My question was how they survived from Novichok."

At a press conference at his official residence in London after Mr Skripal was discharged, Mr Yakovenko said "we are happy that he is all right. We are still demanding access to these people. We want to understand how they feel. We want them to tell (us) personally what they want. If they don't want our assistance, that's fine, but we want to see them physically."

Mr Yakovenko criticised the Government's attitude towards Moscow, highlighting Defence Secretary Gavin Williamson's comment that Russia should "go away and shut up". The ambassador said:
"We in Russia, we know the price of words. You will never hear from our minister of defence 'Britain should shut up'. It's impossible."

Mr Yakovenko, who was likened to the Iraqi propaganda chief known as Comical Ali during a parliamentary meeting with MPs and peers this week, said he had been given an apology by some lords.

"A few people from the House of Lords came to me yesterday and they apologised for the statements of the MPs," he said.

"They know the price of words, they know how the ambassador of a big country should be treated."