M4: Abnormal Load Delays In Wiltshire
29 November 2013, 10:08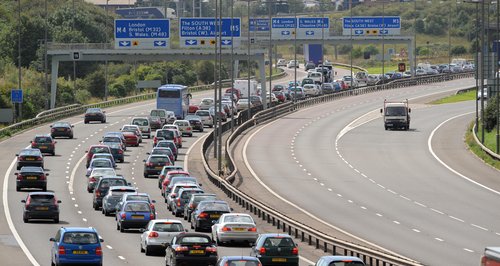 A third abnormal load which was due to travel from Oxfordshire to Avonmouth last weekend has been re-scheduled for tomorrow (Saturday 30th November.)
Motorists can expect delays as Wiltshire Police escort an abnormal load on the M4 tomorrow morning (Saturday 30th November 2013) after it was cancelled last weekend.

The specialised load transporter will leave Membury Services at 10am and be escorted westbound along the M4 turning off onto the A46 at junction 18. It will then turn on to the A420 where it will handed over to Avon and Somerset Police in a lay-by at Togg Hill at around 5pm.

The transporter and the load measures 4.87 metres (16ft) wide, 4.98 m (16ft-04ins) high with an overall length of 89.67 m (294 ft) and gross weight of 637.80 tonnes.

Due to the size of this transporter traffic will be extremely slow moving and there is likely to be substantial congestion on the Westbound carriageway of the M4. Motorists are asked to be patient if they come across this load.

The load is likely to cause significant delays along the A46. Police vehicles will need to ensure the road and traffic ahead is managed so there is no conflict with the load as there are only a few locations where traffic can pass. Police are asking motorists to avoid this particular area from around 3pm onwards and plan alternative travel routes.

Wiltshire Police escort the loads to assist the Highways Agency and the hauliers and ask respectfully for motorists to understand they try to keep disruption to a minimum.

Police escorting resources are being provided by volunteer Police Officers on rest days, paid for by the haulier at no cost to the public.