Swindon: Marshgate Fire Inquiry
12 May 2015, 14:48 | Updated: 12 May 2015, 14:51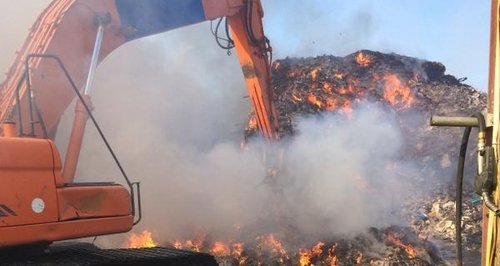 People affected by the Marshgate fire in Swindon last summer are being asked to share their experiences of the incident, so lessons can be learned for the future.
A feedback gathering event is being held in the Council Chamber, at the Civic Offices, in Euclid Street, on Tuesday, 26th May, at 6pm.

The fire, which broke out last July at the Averies Recycling (Swindon) Ltd site in Marshgate, led to a multi-agency major incident. The meeting has been organised by the Task Group established by Swindon Borough Council's Scrutiny Committee to investigate the circumstances leading to the incident and the Local Resilience Forum's independent multi-agency debrief.

In addition to the meeting, the Task Group will also be questioning representatives from organisations involved in the multi-agency incident, including Wiltshire Fire and Rescue Service, the Environment Agency, Swindon Borough Council, Public Health England and Wiltshire Police.

After this comprehensive review, the Task Group will report back on their findings and, if necessary, make recommendations.

Cllr Maureen Penny, Chair of the Task Group, said: "This is an opportunity for anyone who was directly affected by the fire, as either a resident or business, to share their experiences and views. We want to examine and review the situation and its impact as thoroughly as possible so we can establish what worked well and what could have been done differently, so we can learn for the future. Due to the ongoing nature of the review, we won't be in a position to answer individual questions at this meeting. However, all the feedback will be used to help our investigation and inform any subsequent recommendations. I would like to take this opportunity to thank everyone in advance for sparing their time to attend."