Moped Problems In Swindon
13 June 2018, 09:04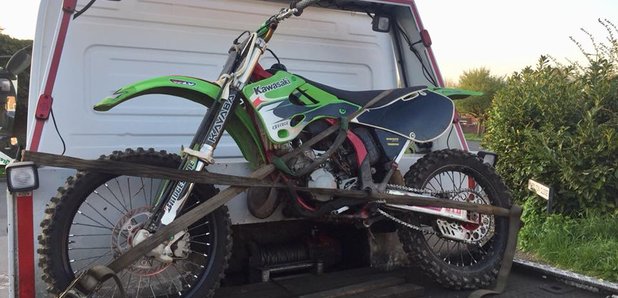 Police in Swindon are trying to tackle a rise in anti-social behavour by youngeters of mopeds and motorbikes.
They say the lighter evenings and warmer weather have led to riders using footpaths, going the wrong way down main roads and across parkland at fast speeds.
Sometimes the bikes are not roadworthy and are ridden recklessly with the rider not wearing protective clothing like helmet and gloves.
Already this month, two teenage boys have been arrested and police have seizured two mopeds in the Pinehurst area.
Policing Inspector Andy Bridge said: "We are working in the community to reduce the number of anti-social incidents involving illegal riders on mopeds and motorbikes in the Pinehurst area.
"We know that the actions of a few can make life miserable for the majority of those living in the community. I want to reassure the community that we are working hard to combat this behaviour with visible patrols and a lot of intelligence work going on behind the scenes to help us build up a picture of who might be responsible and prosecute them.
"These riders are risking not only the safety of others but their own safety.
"I appreciate people can get frustrated when they see these youths breaking the law and the question is often asked: 'why are the police not doing more like chasing and catching these individuals there and then?'
"I want to reassure the public that we have a number of tactics that we can use to stop these individuals but the risks involved have to be carefully assessed against all the circumstances before they can be used and it may not always be appropriate to use them.
"We will, however, follow up on intelligence and evidence gathered in the course of investigations and prosecute those who are responsible.
"In some incidents, other crimes have been carried out with the use of mopeds. e.g. street robberies - where mobile phones have been snatched from people. Although few in number these are a cause for concern and we are also concentrating our efforts to tackle this.
"As part of our on-going work we also need the public's help in identifying these individuals, the majority of which live in our community.
"Someone will know where they live, where they store these bikes and even where they get fuel from. If that is you, please come forward by calling 101 or, if you wish to remain anonymous, contact Crimestoppers on 0800 555 111.
"There are also times when the machines used in these crimes are stolen and we would like to appeal to moped and motorcycle owners to make sure their bikes are secure when left. Make sure your bike is locked overnight, if possible in a secure building like a garage. Also, when leaving your bike in a public car park or space, make sure you lock it, remove the key and if possible secure it with an additional chain and lock to deter thieves."